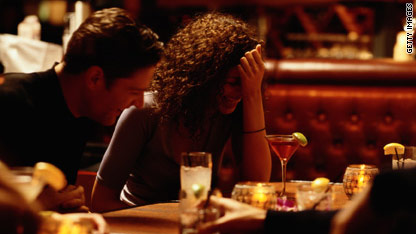 By Elizabeth Landau
CNN.com Health Writer/Producer
It seems as if there's always a new study claiming that alcohol is surprisingly good or bad for you. Various studies have suggested that alcohol may help the brain in an injury but, according to other research, shrink the brain.
The latest addition to the growing body of work on this subject suggests that moderate drinking - between one and three glasses of alcohol a day, with 10 grams per glass - is associated with lower anxiety and lower body mass index compared against people with heavier or lighter drinking habits (or who don't drink at all).
A new study published in the European Journal of Clinical Nutrition looked at the drinking habits and health status of nearly 150,000 people in France. Researchers looked at a variety of factors related to cardiovascular health, including obesity and anxiety levels. They determined that moderate alcohol consumption was strongly associated with characteristics "that favor a superior overall health status and a lower risk of CVD [cardiovascular disease]."
But the authors raise the possibility that moderate consumption of alcohol does not cause people to achieve better health; rather, some other factors could be at play - in other words, physical activity and lower stress could be causing the lower risk in cardiovascular disease, and people with those characteristics coincidentally drink moderately.
"Our data suggest that it is clearly premature to promote alcohol consumption as the basis of CV [cardiovascular disease] protection" until it can be proved that alcohol causes those benefits, the authors wrote.
Moderate female drinkers were more likely to report engaging in regular physical activity than their counterparts who drank more or less; among men, those who never drank had the highest physical activity levels, the study found.
The study used self-reported data, meaning results may be skewed by people overstating and understating their actual alcohol consumption. Also, participants elected to join the study, and were not randomly chosen. The authors' analysis finds that these participants are representative of the population of the urban region of Paris-Ile-de-France, but it is unclear how applicable the findings particular to this group would be.
Editor's Note: Medical news is a popular but sensitive subject rooted in science. We receive many comments on this blog each day; not all are posted. Our hope is that much will be learned from the sharing of useful information and personal experiences based on the medical and health topics of the blog. We encourage you to focus your comments on those medical and health topics and we appreciate your input. Thank you for your participation.