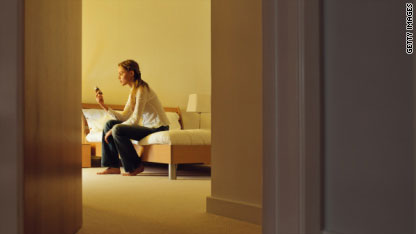 By Madison Park
CNNhealth.com writer/producer
In 2007, the number of suicides was twice that of  homicides  based on  statistics from 16 states, according to a report released Thursday by  the Centers for Disease Control and Prevention.
Suicide is the 11th leading cause of death in the United States.
CDC: National Suicide Statistics at a Glance
The latest Morbidity and Mortality Weekly Report found that there were 4,563 homicides and 9,245 suicides in the 16  states.
Suicides occurred at higher rates among men, American Indians, whites and people between the ages of 45 and 54 years.  This was a shift, because previously,  people over age 80 typically had had the highest suicide rates, according to the report.
Problems leading to suicide may be related to mental health, jobs, finances, or relationships or crises occurring two weeks prior, according to the CDC report.  Mental health problems were the most commonly noted circumstance for suicide.
Among the deceased who had mental health problems,  74.9 percent had received a diagnosis of depression/dysthymia, 14.5 percent had been bipolar disorder and 8.1 percent had an anxiety disorder, according to the report.   About 20 percent had a history of previous suicide attempts, 28 percent expressed their intent prior  and about a third left a suicide note.
And sometimes, there were no answers.   CNN.com recently reported the story of a mother whose son committed suicide talked about how her  straight-A son in 11th grade took a gun to the train tracks and shot himself  without any warning.
CNN.com: Parents of suicide find 'immediate bond' in each other
<>Editor's Note: Medical news is a popular but sensitive subject rooted in science. We receive many comments on this blog each day; not all are posted. Our hope is that much will be learned from the sharing of useful information and personal experiences based on the medical and health topics of the blog. We encourage you to focus your comments on those medical and health topics and we appreciate your input. Thank you for your participation.