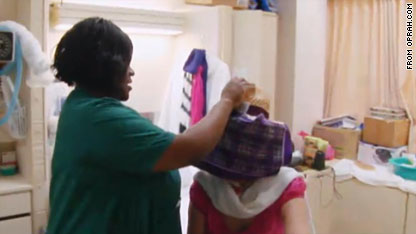 By Madison Park
CNNhealth.com writer/producer
A woman whose  face was mangled in a  chimpanzee attack checked into a Boston, Massachusetts,  hospital this week.
Charla Nash is a possible candidate for a face and double hand transplant, said Dr. Bohdan Pomahac from the Division of Plastic Surgery at Brigham and Women's Hospital  at a news conference Tuesday. CNN affiliate WHDH covered the story.
Nash will have to undergo mental and physical evaluations to assess whether she is a suitable candidate for the procedure, Pomahac said.
In February 2009, Nash was attacked by a pet chimpanzee, Travis, who had been featured in television commercials for Coca-Cola and Old Navy.  Nash was a friend of Travis' owner and was visiting at their house in Stamford, Connecticut.
CNN.com: Police shoot, kill chimp that attacked woman
The nearly life-threatening attack blinded Nash and left her without hands, nose, upper and lower lips, eyelids and bone structure in her mid-face.  More than a year after the attack, numerous surgeries and therapy sessions helped her regain some of mobility.
She appeared on the Oprah Winfrey show in November.
Oprah.com: Nash talks to Oprah
Surgeons at Brigham and Women's Hospital performed a partial face transplant in 2009.  Nash was discharged from the Cleveland Clinic earlier this week; a team at that hospital performed the first  partial face transplant in the U.S in 2008.
Editor's Note: Medical news is a popular but sensitive subject rooted in science. We receive many comments on this blog each day; not all are posted. Our hope is that much will be learned from the sharing of useful information and personal experiences based on the medical and health topics of the blog. We encourage you to focus your comments on those medical and health topics and we appreciate your input. Thank you for your participation.