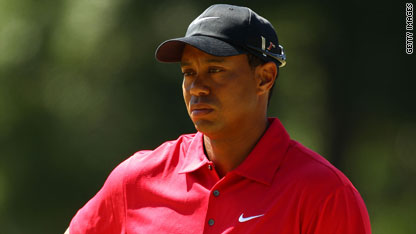 By Madison Park
CNNhealth.com writer/producer
A neck injury has tamed the Tiger.
Golfer Tiger Woods pulled out of the final round of the Players Championship at Sawgrass on Sunday because of what he called "a bulging disk."
Woods said the pain began before the Masters tournament last month.
Disks are like cushions between the vertebrae in the spine, that act like "miniature jelly doughnuts" and fit "exactly the right size to fit between your vertebrae," according to the Mayo Clinic's explanation. A bulging disk means that it is extending beyond the space it should occupy. These types of injuries can occur because of age-related wear and tear on the spine.
Mayo Clinic.com: Herniated disk vs. bulging disk: What's the difference?
Some bulging disks cause little to no pain, but not for Woods.
"I'm having a hard time with the pain," Woods said in a press conference Sunday.
"There's tingling down my fingers, just the right side. Setting up over the ball is fine but once I start making the motion, it's downhill from there." CNN.com: Injury forces Woods out of Players
The treatment of a painful disk may include rest, rest, pain medications, physical therapy, cortisone injections, therapy and surgery. Read more on disk injuries.
Editor's Note: Medical news is a popular but sensitive subject rooted in science. We receive many comments on this blog each day; not all are posted. Our hope is that much will be learned from the sharing of useful information and personal experiences based on the medical and health topics of the blog. We encourage you to focus your comments on those medical and health topics and we appreciate your input. Thank you for your participation.