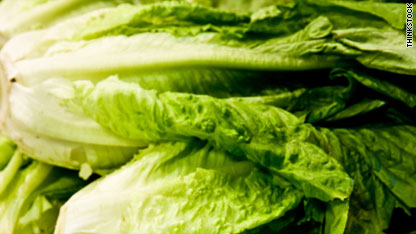 By Elizabeth Landau
CNN.com Health Writer/Producer
In the latest food poisoning scare, Freshaway Foods says it's voluntarily recalling certain romaine lettuce products because they may be contaminated with E. coli, bacteria that can be lethal. Read about it on CNN's This Just In.
Most E. coli strains are harmless, but there are strains that cause severe illness. Diarrhea, urinary tract infections, pneumonia and other respiratory illnesses are just some of the consequences of ingesting certain kinds of the bacteria.
The Centers for Disease Control and Prevention says that cases of E. coli 0157, which can lead to sickness, decreased in 2009, CNN reported. But the strain in the latest outbreak is E. coli 0145, a different strain. There are about 76 million cases of food-borne disease in the United States each year, according to the CDC.
During the last year there have been E. coli outbreaks in foods such as ground beef and Nestle Toll House cookie dough.
Contaminated food, unpasteurized milk, water that hasn't been disinfected, cattle, and human feces can all pass E. coli onto you. It's actually small, usually invisible amounts of human or animal feces that spread the infections.
How do you know if you have E. coli? Symptoms include bloody diarrhea, severe stomach cramps, and vomiting. In some cases, there can be life-threatening complications. Web developer Dan Kruse spoke with CNN in 2008 about how he almost died of E. coli as a teenager - read the story.
To prevent the spread of food-borne illness, it's crucial to wash your hands, separate your raw meats and produce from each other, cook to proper temperatures and refrigerate leftovers. Here are more tips from the U.S. Department of Agriculture.
Editor's Note: Medical news is a popular but sensitive subject rooted in science. We receive many comments on this blog each day; not all are posted. Our hope is that much will be learned from the sharing of useful information and personal experiences based on the medical and health topics of the blog. We encourage you to focus your comments on those medical and health topics and we appreciate your input. Thank you for your participation