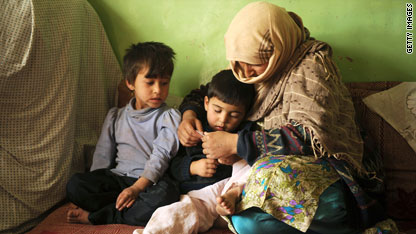 An Afghan mother with her two sons.
by Madison Park
CNNhealth.com writer/producer
What are the best and worst countries for moms? Just in time for Mother's Day, Save the Children has ranked the countries with the best and worst maternal health.
Norway topped the non-profit advocacy group's list, with its low infant mortality rates and high contraceptive prevalence followed by other Western countries.  Meanwhile sub-Saharan African countries and Afghanistan ranked last.
The health rankings were based on lifetime risk of maternal death, percentage of women using modern contraception, the presence of a skilled attendant at birth, and female life expectancy, derived from United Nations and World Health Organization statistics.  The Mothers' Index compared the well-being of mothers and children in 160 countries.
For the full report: 2010 State of the World's Mothers (PDF)
The United States ranked number 28.  Why so low?
Save the Children explains: "One of the key indicators used to calculate well-being for mothers is lifetime risk of maternal death. The United States' rate for maternal mortality is 1 in 4,800 – one of the highest in the developed world."
It also stated that "a woman in the Unites States is more than five times as likely as a woman in Bosnia and Herzegovina, Greece or Italy to die from pregnancy-related causes in her lifetime and her risk of maternal death is nearly 10-fold that of a woman in Ireland."
Around the world, there are startling statistics: 50 million women in the developing world give birth without professional help and 8.8 million children and newborns die from easily preventable or treatable causes.
The risk of a woman dying from pregnancy or childbirth-related causes in Niger is 1 in 7.  The risk is 1 in 8 in Afghanistan and Sierra Leone.  Compared to Ireland (which ranked 11), that risk was 1 in 47,600.
Top 5 places for mothers:
1. Norway
2. Australia
3. Iceland
4. Sweden
5. Denmark
Worst 5 places for mothers:
1. Afghanistan
2. Niger
3. Chad
4. Guinea-Bissau
5. Yemen
Editor's Note: Medical news is a popular but sensitive subject rooted in science. We receive many comments on this blog each day; not all are posted. Our hope is that much will be learned from the sharing of useful information and personal experiences based on the medical and health topics of the blog. We encourage you to focus your comments on those medical and health topics and we appreciate your input. Thank you for your participation