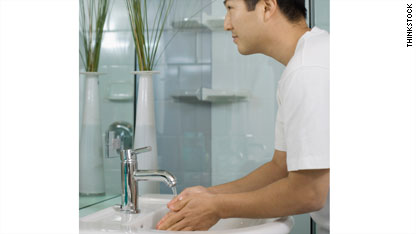 By Elizabeth Landau
CNN.com Health Writer/Producer
"Out, damned spot!" Lady Macbeth said as she famously tried to wash away her worries about having participated in murder. We all know how that turned out (she and husband both die in Shakespeare's tragedy).
But scientists say that the act of washing hands can actually help people cleanse themselves of concerns about past decisions, at least temporarily.
It may sound crazy that the simple act we (hopefully) go through multiple times a day to rid ourselves of bacteria and dirt could have an effect on our mental state. But University of Michigan researcher Spike Lee - no relation to the director - points out that this metaphor of cleansing can be found across cultures. And a 2006 study in Science found that washing hands can help people feel better about unethical behavior.
"When people have done bad things, they have sort of sins or traces or residuals from the past," he said. "By washing away the hands, there's a sense of abstractly also washing away the past sins.
Lee and colleagues have a new study in Science this week supporting these ideas, adding that washing hands helps people look at choices they've made more objectively, as if removing the weight of the past decision. The idea is that humans tend to experience what's called cognitive dissonance. For instance, if you decide to take a job in a different city over a job in your city, you might focus only on the positive aspects of the new city in order to justify the choice to yourself.
In the first experiment, involving 40 undergraduates, participants chose 10 CDs they would like to own from a list of 30 and rank them in order of preference, and then were told to choose the fifth or sixth. Half the participants then washed their hands, and half did not. Then, everyone involved had to re-rank the 10 CDs. Those who did not cleanse themselves tended to rate the CD they had chosen higher than they had before, indicating they were making themselves feel better about their choices.
In the second experiment, 85 undergraduates were presented with four fruit jams, and then given the choice of two. About half of the group then cleansed their hands with an antiseptic wipe, and the other half did not. Then, they were asked to rate the taste of the four jams. Participants who did not clean their hands expected the chosen jam to taste much better than the jam they had rejected earlier.
Granted, these are not revolutionary, life-changing decisions like changing cities that are being studied, nor are the sample sizes very large. But the idea is compelling, given how the metaphor of washing turns up in so many disparate cultures, and could prompt further study.
"We should also expect physical washing to remove past concerns – concerns about past decisions, or past immoral behaviors, and that's what we were able to show," Lee said.
More research is needed to assess the longterm effects of hand-washing and other cleansing on a person's mindset, Lee said.
Update: Several readers asked about a connection to obsessive-compulsive disorder in the comments. The study authors have not studied this condition. Co-author Norbert Schwarz at the University of Michigan speculates that excessive hand-washing, which can be a symptom of OCD, is not enough to banish the unwanted, persistent thoughts that accompany repetitive behaviors in the condition. But his study in Science did not involve individuals with OCD.
Editor's Note: Medical news is a popular but sensitive subject rooted in science. We receive many comments on this blog each day; not all are posted. Our hope is that much will be learned from the sharing of useful information and personal experiences based on the medical and health topics of the blog. We encourage you to focus your comments on those medical and health topics and we appreciate your input. Thank you for your participation.