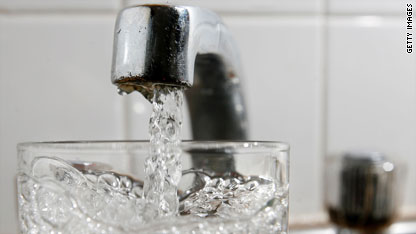 By David S. Martin
CNN Medical Senior Producer
Exposure to potential cancer risks in daily life is widespread but underestimated, especially for children, a presidential panel said today.
The President's Cancer Panel said the public remains by and large unaware of such common cancer risks as formaldehyde, benzene and radon. It's the first time the group has focused on environmental cancer risks in its annual report to the president.
"The mere fact that the President's Cancer Panel has this report is going to make people more aware," said panel chair Dr. Lasalle Leffall Jr., an oncologist and professor of surgery at Howard University College of Medicine.
The panel also recommends reducing environmental cancer risks a cornerstone of cancer prevention efforts and said doctors need to do a better job considering potentially harmful chemical exposures when diagnosing patients.
The report also faults U.S. policy for allowing most of the 80,000 chemicals in use to go largely unstudied and unregulated. For example, the report says, bisphenol A (BPA) remains unregulated in consumer products such as plastic bottles, can liners and food wrap "despite the growing link between BPA and several diseases, including various cancers."
Risks of environmental exposure are especially acute for children, who weigh less but – pound for pound - take in more food, water and air than adults. Toxic chemicals also remain active longer in children's bodies and their developing brains are more prone to chemical exposure.
Leffall said the panel decided to publish the report on environmental cancer risks this year even in absence of proof that particular exposures cause cancer. Case in point: Cell phones. Leffall said even though science has not shown electromagnetic energy from cell phone use causes cancer, the report takes a cautious approach and recommends callers wear headsets, or text, to reduce exposure.
To lessen cancer risks, the 240-page report also recommends:
* Removing shoes before entering the home to avoid tracking in toxic chemicals such as pesticides.
* Filtering tap water.
* Using stainless steel, glass or BPA-free plastic water bottles.
* Microwaving in ceramic or glass instead of plastic containers.
* Minimizing consumption of food grown with pesticides and meat raised with antibiotics and growth hormone.
* Minimizing consumption of processed, charred or well-done meats, which contain carcinogenic heterocyclic amines and polyaromatic hydrocarbons.
* Reducing radiation from X-rays and other medical sources.
The report singled out three chemicals as dangerous: formaldehyde, benzene and radon.
Almost all homes contain formaldehyde, considered a probable human carcinogen by the Environmental Protection Agency. Formaldehyde is used in plywood, particle board, foam insulation, carpet and draperies, furniture, permanent press fabrics and toiletries. Exposure is highest when these are newly installed, the report said. Also, an estimated 2 million Americans are exposed to formaldehyde at work, raising their risk of dying from Hodgkin's lymphoma and other cancers, according to the report.
Exposure to benzene is also widespread. Exhaust from cars and other vehicles contain benzene, listed as a known human carcinogen by the EPA.
Radon, which forms naturally and can collect in homes, is the second leading cause of lung cancer in the United States, behind smoking, resulting in an estimated 21,000 deaths annually, according to the report. The report recommends periodically checking the radon levels at home.
The President's Cancer Panel was created in 1971. Serving with Lefall is Margaret L. Kripke of the University of Texas M.D. Anderson Cancer Center. The panel's third member has not been appointed.
Editor's Note: Medical news is a popular but sensitive subject rooted in science. We receive many comments on this blog each day; not all are posted. Our hope is that much will be learned from the sharing of useful information and personal experiences based on the medical and health topics of the blog. We encourage you to focus your comments on those medical and health topics and we appreciate your input. Thank you for your participation.