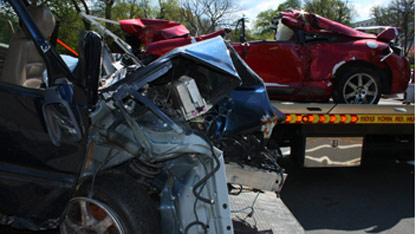 By Trisha Henry
CNN Medical Producer
Nearly half of all deaths among teens are accidental, and the majority of those deaths are from car accidents, according to a new report by the Centers for Disease Control and Prevention.
The report also finds male teens are more likely to die from accidental injury than females and the gap between the two genders increases as males get older. Homicide, suicide, cancer, and heart disease are among the other leading causes of death among young people, according to the report.
Accidents are the leading cause of death for all children, says Dr. Lois Kaye Lee, director of the Pediatric Injury Prevention program at Children's Hospital Boston. Car crashes cause three times more deaths than the top non-trauma causes combined, says Lee, who also is an assistant professor of pediatrics at Harvard Medical School. Whether it's refusing to wear a seatbelt, using alcohol, cell phone use, or just having a friend in the car, there are a lot of things that are keeping teens from focusing on driving during a time that they are just learning to drive. "They don't realize they aren't in a safe driving situation or that they shouldn't be texting, which is a huge problem in this age group," she says.
Dr. Leigh Vinocur, an emergency room doctor and University of Maryland assistant professor, says we shouldn't be losing our teens this way. "Nowadays with vaccines, we don't see kids dying from infectious diseases," he says. "A good portion of deaths are preventable...whether they are from fast driving, drinking underage....or the feeling of invincibility that teenagers have."
The report also found differences among ethnic groups: African American teens are 37 percent more likely to die than Hispanic and non-Hispanic white teenagers and most of the time homicide is the reason. Notes Lee: "The exposure to gun violence is much higher in lower socioeconomic neighborhoods, so the risk of homicide due to firearms is higher in this population because of where many of them live." She says firearms are responsible for more than 80 percent of homicide deaths in the 12-19 year old age range, and for African American teenagers, the number is 89 percent.
Experts believe many of these teen deaths are preventable and urge parents to keep an open line of communication with their teens and talk about the importance of safe driving, following the speed limit, refraining from alcohol and drug use and not getting into a car with a friend who has been drinking or using drugs. Lee also stresses the importance of outlawing cell phone use and texting while driving, something she says is a growing problem.
Editor's Note: Medical news is a popular but sensitive subject rooted in science. We receive many comments on this blog each day; not all are posted. Our hope is that much will be learned from the sharing of useful information and personal experiences based on the medical and health topics of the blog. We encourage you to focus your comments on those medical and health topics and we appreciate your input. Thank you for your participation.