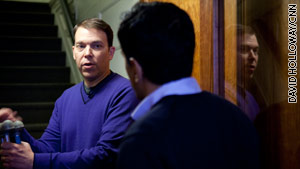 By Dr. Sanjay Gupta
Chief Medical Correspondent
As a doctor, I watch people facing death daily. As a reporter, I have gone to dangerous places and have often been put in harm's way. As a father of three girls I have often thought, "What if something happens to me?" It is a frightening prospect and a daunting question.
Recently I met a man who had a remarkable answer to that question. The story of Bruce Feiler profoundly connected with me and left me speechless. It made me rethink how I'd live my life and how I would take care of the three little girls I might leave behind.
In May of 2008, Bruce was in great health. Happily married, the father of 3-year-old twin girls Eden and Tybee, a best-selling author who had traveled the globe.
Bruce was at the top of his game. At his annual physical, a routine blood test revealed something was wrong with his bones. A follow-up bone scan would reveal an abnormality on his femur—or thighbone. Doctors weren't alarmed since it was the bone Bruce broke riding his treasured bike at age 5. In fact, Bruce recalls his doctor saying, "It looks like nothing. Don't worry, it's not like you have cancer." Over the coming days, as Bruce waited for test results and lived with the uncertainty of an undiagnosed growth, he would repeat that mantra—"NOT CANCER, NOT CANCER." Meanwhile his wife, Linda, had a hunch something was wrong. When we sat down at their home in Brooklyn she told me, "You know as a wife, as a spouse. You know as a parent when something's just off. And he just didn't look himself."
Days later, a follow-up X-ray and MRI confirmed Linda's worst suspicions. Bruce was had bone cancer called osteosarcoma. It's not a common cancer; only about 900 people are get it each year. More than 2/3 of diagnoses come before age 40. Bruce was 45.
His thoughts immediately turned to his girls. And what would happen if he died and they were left fatherless. In the middle of the night he came up with an idea – contacting six of his closest friends and asking them to be there for his girls if he died. He asked them by reading each a letter he wrote - " Dear Friend, As you know, I recently learned that I have a seven-inch cancerous tumor in my left leg. That afternoon, Tybee and Eden, who had just turned three, came running to greet me, laughing, giggling, and falling to the ground. I crumbled. I kept imagining all the walks I might not take with them, the ballet recitals I might not see. Would they wonder who I was? Would they yearn for my voice? I believe Eden and Tybee will have plenty of love, plenty of opportunities in their lives. But they may not have their dad. Will you help be their dad?"
All six men said yes -and Bruce created for Eden and Tybee what he would call "The Council of Dads." A group of men who would be with him, his girls and his wife as he fought this rare and aggressive cancer.
I followed Bruce's journey and will tell you what his prognosis is in a very special half-hour airing this weekend and then a special hour airing Father's Day. It's called "Dads for My Daughters" and I am confident it will inspire you, as it did for me, to think how you live your life and the legacy you want to leave behind.
Bruce has written a book about his experience called "The Council of Dads: My Daughters, My Illness and The Men Who Could be Me."
Watch a preview of Bruce Feiler's story this weekend on "SGMD," Saturday-Sunday, 7:30 a.m. ET
Do you know a survivor dad? Tell us about him.