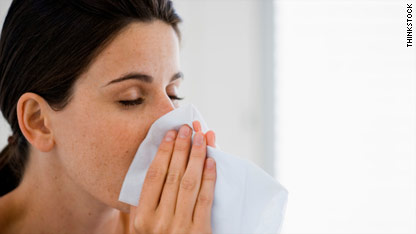 By Elizabeth Landau
CNN.com Health Writer/Producer
You may cower in disgust when someone sneezes near you, but just seeing that person may make your immune system prepare for battle, a new study suggests.
Research published in the journal Psychological Science found that when people viewed a slide show of photos depicting symptoms of infectious disease - pox, skin lesions, sneezing – their immune response became more aggressive against bacteria. The study was led by Mark Schaller at the University of British Columbia.
One group of participants viewed a slide show of furniture followed by the disease slideshow in a separate session, and the other group saw the furniture photos and then, on a later occasion, images of people holding firearms. Everyone involved had blood samples drawn before and after viewing the slideshows.
Scientists compared the white blood cells of participants who viewed the disease slide show against those who saw the gun depictions. They found that the white blood cells of people who saw the disease images tended to respond more aggressively to bacteria than the group that saw the guns.
Researchers also looked at emotional state, and found that participants' stress levels were higher after the firearms presentation than after the infectious disease images. Similarly, they found that the level of participants' disgust with the pictures of ill people did not have an effect on the immune response.
This suggests that even though the firearm slide show was more stressful, but also depicted a threat, the immune reaction was not as aggressive as with the infectious disease images, the authors wrote.
The study, while small at 28 participants, is the first empirical evidence linking visual perception and immune system aggressiveness in the presence of bacteria, the authors wrote.
Having this immune response may have had its advantages in the days of early humans - even though they may have recoiled at the sight of other sick people too, their immune responses would have helped them live in proximity with others. But this phenomenon may also have disadvantages, the authors note. A 2004 study in Psychological Bulletin, led by Suzanne Segerstrom at the University of Kentucky, suggested that persistent priming of the immune system could have negative effects overall.
"The overall implication is that the link between perceived disease cues and immune responsiveness may have important consequences for human health and welfare," the authors of the new study wrote.
Editor's Note: Medical news is a popular but sensitive subject rooted in science. We receive many comments on this blog each day; not all are posted. Our hope is that much will be learned from the sharing of useful information and personal experiences based on the medical and health topics of the blog. We encourage you to focus your comments on those medical and health topics and we appreciate your input. Thank you for your participation.