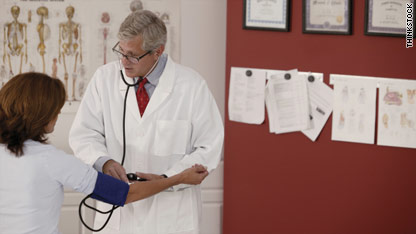 By Elizabeth Landau
CNN.com Health Writer/Producer
Heart disease is America's No. 1 killer, and nearly half of Americans have one or more conditions - hypertension, high cholesterol or diabetes - that puts them at risk, according to a new report from the U.S. Centers of Disease Control and Prevention.
One out of eight adults, or 13 percent, have two of these conditions, and 3 percent have all three, the CDC said in its analysis of people over 20 years old from 1999 to 2006. Forty-five percent have at least one of the three.
African American individuals have a greater likelihood of having at least one of these three conditions than non-Hispanic white people and Mexican Americans, the study found. White Americans more commonly have high cholesterol than African Americans and Mexican Americans. As for diabetes, African Americans and Mexican Americans have a higher prevalence than white individuals.
The portion of adults with undiagnosed conditions is significant - more than 15 percent of adults have one or more of the conditions, but had not received a diagnosis. About 8 percent have undiagnosed hypertension, 8 percent have undiagnosed hypercholesterolemia (high cholesterol), and 3 percent have undiagnosed diabetes, the report said. These proportions were similar across ethnic groups.
Heart disease is the leading cause of death in the United States. Read more about it from the Mayo Clinic Health Library.
Editor's Note: Medical news is a popular but sensitive subject rooted in science. We receive many comments on this blog each day; not all are posted. Our hope is that much will be learned from the sharing of useful information and personal experiences based on the medical and health topics of the blog. We encourage you to focus your comments on those medical and health topics and we appreciate your input. Thank you for your participation.