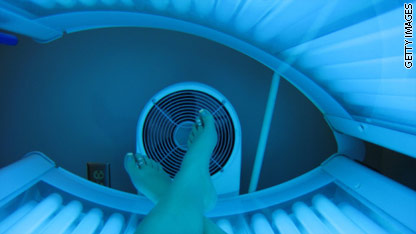 By Georgiann Caruso
CNN Medical Associate Producer
Indoor tanning among U.S. college students is linked to addiction, anxiety and substance use, according to a study released today.
Researchers polled more than 400 undergraduates ages 18 to 25 in the northeastern U.S, almost half of whom said they used tanning beds. The researchers, using language similar to screening quizzes for alcohol and substance abuse, asked the respondents about their indoor tanning as well as their use of alcohol and other substances. They found that people who tanned also tended to use alcohol and marijuana; they were also more likely to experience symptoms of anxiety. The authors noted that "repeated exposure to UV light" may have results similar to those often cited by substance abusers: relaxation, increased socialization and improved moods.
They suggested more study of a short anxiety and depression screening for those who participate in indoor tanning.
"Treating an underlying mood disorder may be a necessary step in reducing skin cancer risk among those who frequently tan indoors," the authors wrote.
Dr. Darrell Rigel, past president of the American Academy of Dermatology and now clinical professor of dermatology at New York University, agreed. "We haven't convinced people in theory that 100 percent of people should be wearing sunscreen and 0 percent of people should be going to tanning beds. …Maybe the reason our current strategy is not working is because tanning is an addictive behavior. If that's true, then we have to attack the public's perception of this just like we would attack alcoholism and drug use. We have to bring in behavioral scientists who are addiction experts to come up with a better plan to deal with this issue."
Editor's Note: Medical news is a popular but sensitive subject rooted in science. We receive many comments on this blog each day; not all are posted. Our hope is that much will be learned from the sharing of useful information and personal experiences based on the medical and health topics of the blog. We encourage you to focus your comments on those medical and health topics and we appreciate your input. Thank you for your participation.