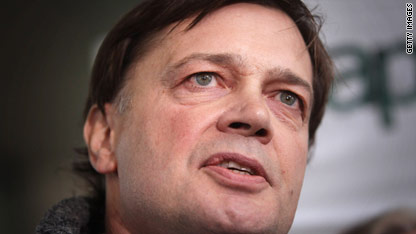 By Madison Park
CNNhealth.com writer/producer
The existence of a gut disease, as described by embattled autism researcher Dr. Andrew Wakefield, is called into question in a new article published Friday in the British Medical Journal.
Wakefield was the lead author of a now-discredited 1998 study which suggested the measles vaccine caused gastrointestinal problems and those GI problems led to autism.  In that piece published in The Lancet, Wakefield, a gastroenterologist had said he discovered a new gut pathology called "autistic enterocolitis."
BMJ: Wakefield's "autistic enterocolitis" under the microscope
Brian Deer, an investigative journalist challenges this notion in his BMJ article  and  alleges that Wakefield had a "mission,  which was to discover precisely such a disease."  Wakefield was hired by a lawyer to "help launch a speculative lawsuit against drug companies that manufactured MMR vaccine. And the instrument of their attack was to find what he called at the time 'a new syndrome' of bowel and brain disease caused by vaccines," according to the article.  Deer has written extensively on Wakefield for the Sunday Times.
He also reported that the biopsy reports on eight of the 11 children in the study were normal, yet the published Wakefield paper reported that 11 children had "non-specific colitis" - a clinically significant inflammation of the large bowel. The biopsy slides are no longer available for examination.
Autistic enterocolitis has not been accepted into gastroenterology textbooks.
Wakefield's  study in The Lancet triggered concerns that childhood vaccines cause autism.  Earlier this year, the journal retracted his study after Wakefield was found guilty of acting unethically in conducting his research.
Medical journal retracts study linking autism to vaccine
Editor's Note: Medical news is a popular but sensitive subject rooted in science. We receive many comments on this blog each day; not all are posted. Our hope is that much will be learned from the sharing of useful information and personal experiences based on the medical and health topics of the blog. We encourage you to focus your comments on those medical and health topics and we appreciate your input. Thank you for your participation.