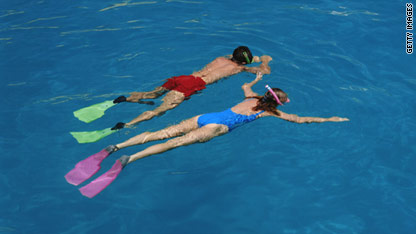 By Elizabeth Landau
CNN.com Health Writer/Producer
Let's say you get a check for $50 for your birthday. Would you spend it on something material, like a watch or a bracelet, or an experience, like a day at the beach or nice dinner?
Research has shown that experiences bring people more happiness than material possessions. That's because we become accustomed to objects - after a few weeks or months, that shiny new car is just a means of getting around - but remembering activities can give us pleasure indefinitely. Read more about those studies
Now, pioneers of those ideas have demonstrated that people who pursue happiness through experiences are better liked by others than those who are more materialistic. Their new study is published in the Personality and Social Psychology Bulletin.
Leaf Van Boven, psychology professor at the University of Colorado at Boulder, and colleagues gave undergraduate students a national survey, which they used in five experiments to test their ideas.
In one of them, participants were told about people who had bought a material object or a life experience. Researches found that when the undergraduates learned about someone making a material purchase, this caused them to like that person less than a different person who purchased something experiential.
The authors concluded that people tend to have negative stereotypes about materialistic people. Participants asked to describe a materialistic person often used words such as "selfish" and "self-centered." When they described a experiential person, adjectives such as "altruistic," "friendly" and "outgoing" came up, the authors said.
Study co-author Thomas Gilovich, professor and chairman of the psychology department at Cornell University, has pointed out in the past that comparing recent material purchases with friends generates more jealousy than trading stories about recent vacations. Material purchases can be compared physically - one person's television can be objectively bigger and brighter than her friend's - whereas each experience is unique and precious in its own way to the individual.
For those who by nature enjoy buying things, the authors recommend a change of pace. Given that experiences not only bring more happiness, but also social approval, a materialistic person would benefit from investing more in experiences and less in objects, the theory goes.
Watch Van Boven discuss the research online here.
Editor's Note: Medical news is a popular but sensitive subject rooted in science. We receive many comments on this blog each day; not all are posted. Our hope is that much will be learned from the sharing of useful information and personal experiences based on the medical and health topics of the blog. We encourage you to focus your comments on those medical and health topics and we appreciate your input. Thank you for your participation.