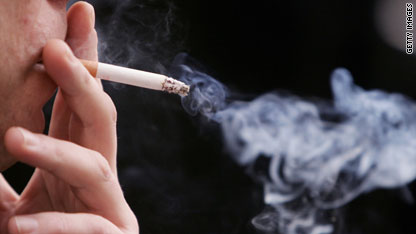 By Madison Park
CNNhealth.com writer/producer
Adults with depression are more likely to be cigarette smokers than those without depression, according to a report released Wednesday by the Centers for Disease Control and Prevention's National Center for Health Statistics that reinforces previous findings. (watch video)
More than half of men with depression ages 40-54 were current smokers compared with 26 percent of the men who did not have depression.  For women in the same age category, 43 percent who had depression smoked, compared with 22 percent without depression.
More than half of smokers with depression reported having their first cigarette of the day within five minutes of waking. They were also more likely to smoke over a pack a day. These are indicators of heavy smoking.  These findings were based on interviews and examination samples of approximately 5,000 people of all ages from 2005 to 2006.
Previous studies have shown that smoking is more prevalent in people who have depression.  One possible factor is that people use smoking to cope with depression.
MayoClinic.com: Quit smoking: Proven strategies to help you quit
Editor's Note: Medical news is a popular but sensitive subject rooted in science. We receive many comments on this blog each day; not all are posted. Our hope is that much will be learned from the sharing of useful information and personal experiences based on the medical and health topics of the blog. We encourage you to focus your comments on those medical and health topics and we appreciate your input. Thank you for your participation.