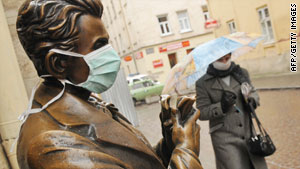 by Madison Park
CNNhealth.com writer/producer
Health experts convening in Geneva, Switzerland, began its review of the World Health Organization's response to the 2009 H1N1 flu virus Monday.
The committee will examine the ongoing global response to the pandemic H1N1 and to identify lessons learned about preparedness and response for future pandemics and public health emergencies.  The review committee is made of 29 experts in various aspects of public health, science and infectious diseases.
The WHO has been criticized for its handling of the pandemic with accusations that it exaggerated the flu's threat after the virus spread globally last April.
"We want a frank and critical assessment," said Dr. Margaret Chan, WHO's director general.  "WHO is not defining or restricting the scope of specific issues that may arise. If our member states have questions or concerns, we want to hear these questions and concerns raised."  Her statement.
The review committee is expected to submit a preliminary report to the World Health Assembly in May.
Editor's Note: Medical news is a popular but sensitive subject rooted in science. We receive many comments on this blog each day; not all are posted. Our hope is that much will be learned from the sharing of useful information and personal experiences based on the medical and health topics of the blog. We encourage you to focus your comments on those medical and health topics and we appreciate your input. Thank you for your participation.