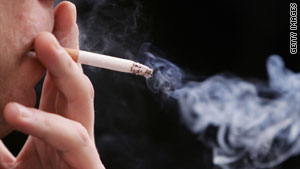 By Georgiann Caruso
CNN Medical Associate Producer
Smoking could raise the risk of developing multiple sclerosis  in people with three specific other risk factors, researchers report in the April 7 online edition of the journal Neurology.
Three geographically different studies looked at 442 people with MS and 865 without the disease. Researchers studied the correlation between MS and whether people had or hadn't smoked; the Epstein-Barr virus;  and the immune-system gene HLA-DR15. It was the first research to examine how the risk factors interact together.
Much remains unknown about the chronic neurological disease: The cause, how to cure it and how to prevent it.  MS  strikes people of every race and age, an estimated 400,000 Americans and over 2 million people worldwide.
A  2003 study also in Neurology,  also linked smoking to MS. In addition, researchers have long known that a genetic component plays a role in causing the disease.   A team of researchers led by Claire Simon, with Harvard School of Public Health in Boston, Massachusetts, set out to study how smoking may interact with these other risk factors.
"We just really need to be thoughtful about how we think these factors relate to each other or interact in a biological sense for a person to go from having a normal-functioning immune system to one resulting in MS," said Simon.
The findings of how these factors interact may leave behind clues as to why some people develop MS and others don't. This preliminary study showed that people with a higher measurement of antibody to EBV and a history of smoking were more likely to have MS, said  Dr. Patricia O'Looney, vice president of Biomedical Research for the National MS Society.
"We really don't know what that really means until we do further investigation," O'Looney said. She says understanding MS is important so that the disease might someday be prevented.
"For people with MS, it may not just be one trigger, it may be different triggers in different people," O'Looney said. Those triggers may impact their individual course of disease, and why some people are more severely afflicted than others.
Editor's Note: Medical news is a popular but sensitive subject rooted in science. We receive many comments on this blog each day; not all are posted. Our hope is that much will be learned from the sharing of useful information and personal experiences based on the medical and health topics of the blog. We encourage you to focus your comments on those medical and health topics and we appreciate your input. Thank you for your participation.