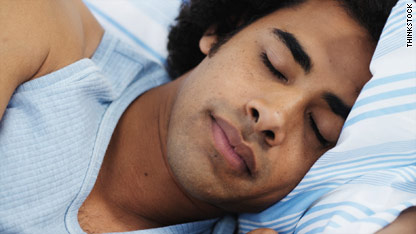 By Elizabeth Landau
CNN.com Health Writer/Producer
If you have shallow breathing or pauses in breaths while you sleep, that's a clear sign of sleep apnea. This chronic condition often leaves people feeling sleepy during the day and can increase risk for high blood pressure, heart attack, stroke, obesity, and diabetes, according to the National Institutes of Health.
A new study in the journal Ophthalmology links the most common form of sleep apnea - called obstructive sleep apnea - to an eye disorder called floppy eyelid syndrome. In this condition, a patient has elastic upper lids that are easily folded up. This condition is hard to diagnose, and is most often seen in obese patients.
Researchers examined 102 patients with floppy eye syndrome and 102 controls. They found that about one-third of patients with floppy eyelid syndrome also had obstructive sleep apnea, and the association was still statistically significant when controlling for body mass index. The study also confirmed earlier findings that the cornea disease keratoconus is also associated with floppy eye syndrome. In this condition, the cornea becomes thin and cone-shaped.
Obstructive sleep apnea and floppy eyelid syndrome often go together in patients of Dr. Scott Greenstein, ophthalmologist at Massachusetts Eye and Ear Infirmary, who was not involved in the study. "They've identified something that's well-known to busy clinicians," he said.
But why these two go hand in hand has not yet been established. The study authors said that those who suffer obstructive sleep apnea often prefer to sleep on one side, which may lead to the eyelid on that side of the face suffering a lot of pressure repeatedly. But Greenstein said most of his patients have floppy eyelids on both sides, making this theory erroneous.
"These findings should also encourage clinicians to be aware of these associations and to direct further treatment," the study authors wrote.
There are, however, limitations in the study methodology: rather than using healthy individuals for the control group, the authors used patients from a diabetic retinopathy clinic, meaning they may have had diabetes-related eye damage that contributed to floppy eyelid syndrome, Greenstein said. The authors wrote that there is evidence of a weak independent association of diabetes with obstructive sleep apnea, although this is inconclusive.
Floppy eyelid syndrome doesn't have a real treatment, but doctors recommend using artificial tears to help with the dryness symptoms, Greenstein said. Keratoconus gets treated with corrective lenses in mild cases and surgery in more severe cases.
Editor's Note: Medical news is a popular but sensitive subject rooted in science. We receive many comments on this blog each day; not all are posted. Our hope is that much will be learned from the sharing of useful information and personal experiences based on the medical and health topics of the blog. We encourage you to focus your comments on those medical and health topics and we appreciate your input. Thank you for your participation.