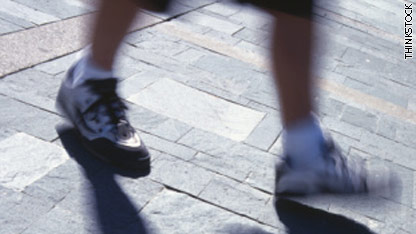 By Val Willingham
CNN Medical Producer
Short bursts of activity can help ease the discomfort of fibromyalgia, a condition associated with long-term pain and tender joints, according to researchers from the Johns Hopkins University School of Medicine.
Approximately 10 million Americans suffer from the condition, according to the National Fibromyalgia Association. The condition has been linked to chronic fatigue, morning stiffness, sleep problems, and constant headaches.
The study looked at 84 minimally active adults with fibromyalgia. The patients were randomly put into two groups; either the "Lifestyle Physical Activity'" (LPA) group or the Fibromyalgia Education (FME) group. LPA involves moderate-intensity physical activity based around everyday life such as taking the stairs instead of using an elevator, gardening and walking. In this study, participants were taught to perform LPA intense enough to cause heavy breathing, but not so vigorous that they could not hold a conversation. In the FME group, participants only received information and support about their fibromyalgia, but no activity plan.
Seventy-three of the 84 participants completed the 12-week trial. The LPA group increased average daily steps by 54 percent compared with the FME group. The LPA group also reported significantly less movement problems and less pain than those in the non-active group. However, when both groups were given a six-minute walk test, there were no differences between the groups when it came to decreasing fatigue, depression, body mass index, or tenderness.
Kevin Fontaine, lead author of the study and a professor with the division of Rheumatology at Johns Hopkins University School of Medicine, said even a little movement helps. "The nature of fibromyalgia's symptoms, the body pain and fatigue, make it hard for people with this malady to participate in traditional exercise," explains Fontaine. "We've shown that LPA can help them to get at least a little more physically active, and that this seems to help improve their symptoms."
The study appears in the recent open access journal of Arthritis Research and Therapy.
Editor's Note: Medical news is a popular but sensitive subject rooted in science. We receive many comments on this blog each day; not all are posted. Our hope is that much will be learned from the sharing of useful information and personal experiences based on the medical and health topics of the blog. We encourage you to focus your comments on those medical and health topics and we appreciate your input. Thank you for your participation.