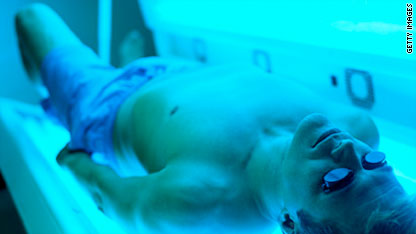 By Val Willingham
CNN Medical Producer
A Food and Drug Administration advisory panel on Thursday recommended tougher controls on tanning beds and suggested that more restrictions, including a possible ban on the devices for teens under the age of 18, be implemented. The committee, which heard from numerous experts, learned that tanning beds are particularly dangerous for young people. According to doctors, the devices, unlike sunlight, concentrate ultraviolet radiation directly to the skin, so people develop skin cancers at an earlier age. Skin cancer is being diagnosed more in young people and tanning bed advertising is geared towards the young.
Along with a possible ban for teens, the panel also advised that visible warning labels should be placed either on the machines or in the tanning salons to warn tanners of the dangers. And the committee decided that tighter regulations and classifications were necessary in order to make the machines safer. The machines currently are categorized as low-risk devices. If the FDA were to change their classification to Class II, as recommended by the panel, the federal agency could limit the levels of radiation the machines emit. The agency could also make changes in their design if needed.
Although the agency does not have to follow the advice of the panel, it traditionally does. The FDA will take the next few months to go over the recommendations before releasing any changes.
Melanoma is the deadliest form of skin cancer and according to the American Cancer Society, and will account for about 68,720 cases of skin cancer in 2009 and most (about 8,650) of the 11,590 deaths due to skin cancer each year.
The World Health Organization recently announced that it has moved ultraviolet tanning beds to its highest cancer risk category, along with arsenic and cigarettes. Those on Capitol Hill have found the issue so important that they incorporated a 10 percent tax on indoor tanning salons into the recently passed health care bill. And although the Indoor Tanning Association, which looks to protect the freedom of those who want to tan through artificial methods, says, "The protective benefits of UV radiation are undeniable," and the warnings "exaggerated," the FDA believes changes are necessary.
Dermatologists recommend if you are desperate to get a tan before the summer months, there are plenty of products on the market that can give you a gradual tan without the dangers of being exposed to ultraviolet rays.
Lindy Royce-Bartlett, contributed to this report
Editor's Note: Medical news is a popular but sensitive subject rooted in science. We receive many comments on this blog each day; not all are posted. Our hope is that much will be learned from the sharing of useful information and personal experiences based on the medical and health topics of the blog. We encourage you to focus your comments on those medical and health topics and we appreciate your input. Thank you for your participation.