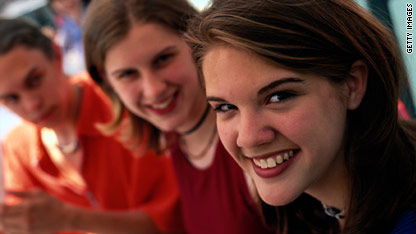 By Madison Park
CNNhealth.com writer/producer
Girls not only look at their friends, but eye their schoolmates and peers to determine their feelings about body weight, according to research published in the March issue of the Journal of Health and Social Behavior.
A girl attending a school where the average body mass index is high is less likely to diet.  A girl attending a school where the average BMI is low, would be more likely to try to lose weight.
The study's lead author, Anna Mueller, a Ph.D candidate at the University of Texas at Austin and her co-authors used info from the National Longitudinal Study of Adolescent Health.  The data had a sample of U.S. adolescents in grades 7-12 in 132 middle and high schools in 80 communities.
"Social contexts in schools play an important role in shaping girls' decisions to practice weight control," according to the research.
Rather than fashion spreads, actresses and models,  comparing themselves with their peers seems to be more important, Mueller said.
"The idea of normal weight is locally defined," she said.  "Adolescent culture is a unique thing. Within the school, because they spend so much time there, peer relationships there are so important, because the developmental stage of adolescence is so powerful. The school culture can be important above and beyond the family influence and the media influences."
This study has bigger implications, Mueller wrote.
"For girls' body image, this suggests that it may be important when designing programs to address girls' body image issues in a way that helps girls curtail the desire to socially compare with other schoolmates."
Editor's Note: Medical news is a popular but sensitive subject rooted in science. We receive many comments on this blog each day; not all are posted. Our hope is that much will be learned from the sharing of useful information and personal experiences based on the medical and health topics of the blog. We encourage you to focus your comments on those medical and health topics and we appreciate your input. Thank you for your participation.