By Elizabeth Landau
CNNHealth.com Writer-Producer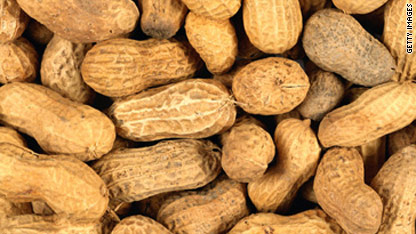 Treating allergies with the very substance that presents life-threatening danger is "the wave of the future," says Dr. Jeffery Adelglass, an allergist in Plano, Texas.
A number of studies presented this weekend at the meeting of the American Academy of Allergy, Asthma & Immunology are riding that wave.
Here's hope for peanut allergy sufferers: The latest results from trials involving peanuts show that giving children who are allergic to them small amounts of peanuts daily results in tolerance of 15 peanuts at a time. The study, led by researchers at Duke University and the University of Arkansas for Medical Sciences, did a randomized trial on 23 children, 15 of whom received the immunotherapy and eight took a placebo.
They also found that nine out of 12 children allergic to peanuts, who did immunotherapy for 32 to 61 months, could incorporate peanuts in their diets four weeks after stopping the therapy. Read more about this study at Health.com.
The results are promising, but the sample size is small, Adelglass noted. "I think that we're at the beginning of a long process," he said. He also noted that in general patients would probably have to stay on oral immunotherapy for life to ensure that an allergic person's immune system would continue to tolerate the offending foods.
There's also good news coming from similar research in the United Kingdom, presented recently at the annual meeting of the American Association of the Advancement of Science. Researchers are about to begin a trial with more than 100 participants to continue investigating the technique for peanut allergies. Read more about that study here.
Here's how it works: Oral immunotherapy involves giving a person a very small dose of a food to which he or she is allergic, and gradually increasing the amount over a long period of time to build up tolerance. This should only be done under a medical professional's supervision, and should not be tried at home. Allergists are excited about the early signs that this can work for food allergies.
This is the same principle as allergy shots, usually used for seasonal allergies to pollens. Adelglass anticipates that children will be much more compliant with the oral immunotherapy than with the shots, but again stressed that it is early in the process of treating food allergies.
Another study presented at the AAAAI meeting found similarly promising results in oral immunotherapy for egg allergy, although it also had a small sample of participants. Researchers found that 21 out of 40 egg-allergic children passed the oral food challenge, being able to eat egg without serious reaction.
While many children outgrow egg allergy, those allergic to peanuts are more likely to have lifelong problems with peanut-containing foods, allergists say.
Other research presented at AAAAI found that some foods may raise a baby's risk of developing allergies and asthma, detailed here by Health.com. On the other hand, observational studies have shown that mothers should not delay the introduction of allergens in their children.

Editor's Note: Medical news is a popular but sensitive subject rooted in science. We receive many comments on this blog each day; not all are posted. Our hope is that much will be learned from the sharing of useful information and personal experiences based on the medical and health topics of the blog. We encourage you to focus your comments on those medical and health topics and we appreciate your input. Thank you for your participation.