By Marcy Heard
CNN Producer
Researching cancer statistics for CNN's Medical Unit reminded me of my own father's battle with the illness.  It was nearly two years ago when Dad was told he had esophageal cancer.  The diagnosis took the entire family by surprise – we had not heard of esophageal cancer and didn't even know the symptoms of the disease.  We all knew Dad had not been feeling well, but he was still active and as cantankerous as ever.   Two questions arose during our conversations – How long would he live? and Could he be cured?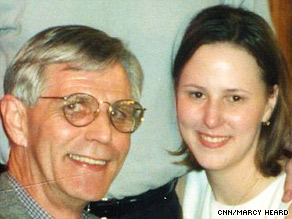 Marvin Beck and his daughter, Marcy Heard
The American Cancer Society estimates that 16,470 new cases of esophageal cancer are diagnosed each year.  14,280 people die from the disease and only 16 percent will survive the next five years.  African Americans are twice as likely as Caucasians to develop esophageal cancer and it is seen more frequently in men.  Symptoms of esophageal cancer include difficulty swallowing, weight loss, chest pain and fatigue.  What Dad had repeatedly dismissed as "getting older" and as "heartburn" was actually his body's way of telling him something was very wrong.
For my father, esophageal cancer treatment meant that most of his esophagus would be removed along with the majority of his stomach.  The radiation and chemotherapy treatments left him weak and unable to live alone.  My brother and his wife cared for him in their own home after each cycle and kept the rest of the family updated on Dad's progress.  From the very beginning both my brother and father wore yellow LIVESTRONG bracelets and remained positive at the possibility of survival.
The hope for a cure burst into joy in December 2006 with the news that Dad was cancer free.  But the happy news was short lived as Dad was hospitalized just after Christmas.  I remember the nurse cutting the yellow LIVESTRONG bracelet from his wrist as Dad asked if it was really necessary.  When told yes, he scowled and lay back on the pillow.  The news we received was not good; the cancer had returned. Dad's race ended in the early hours of January 26, 2007 – six months to the day of his diagnosis.
My brother still has Dad's bracelet and has never taken off the one he wore during Dad's treatment.  To me, the now worn and faded band is a testimony of one life lost in the battle against cancer.  My father ran the race with great patience and faith; we can only continue to do the same each day while working towards a cure.
I made an online dedication for my father as part of the LIVESTRONG World Cancer Declaration.  Dad continues to be an inspiration to me, and I hope others take the time to sign the declaration as the race for a cure continues.
Editor's Note: Medical news is a popular but sensitive subject rooted in science. We receive many comments on this blog each day; not all are posted. Our hope is that much will be learned from the sharing of useful information and personal experiences based on the medical and health topics of the blog. We encourage you to focus your comments on those medical and health topics and we appreciate your input. Thank you for your participation.