By Caitlin Hagan
CNN Medical Associate Producer
On a hot sunny day, eight men play street soccer on the hard top of a local basketball court. They high-five and laugh while running drills and scrimmaging. Their dynamic is unique because despite their competition, they are also extremely supportive of one another. Friendly trash talk is intermixed with calls of praise that continue when it's time for a break and the men move off the court, into the shade. To an outsider, this group of friends is happy and healthy, enjoying an afternoon in the sunshine.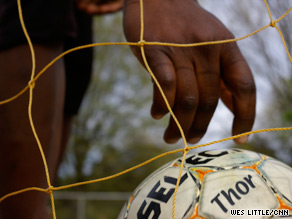 Street Soccer USA tries to give hope and restore self-worth to homeless men around the country.
No one would ever suspect these men are homeless. In fact, being homeless is what brings them together.
Welcome to the Atlanta Street Soccer team. One of 16 in the country, the team is part of the national program, Street Soccer USA. The program, open to men who are homeless, addicts in a rehabilitation program, or refugees, seeks to use sports, specifically street soccer, to help the players turn their lives around.
When someone is homeless, "you stop thinking about your health and things that make you happy, things that make you want to live, that make you want to be a productive member of society, that make you want to get up and go to work." Participating in soccer and sports "makes you want to take that next step. It motivates you to want to do better," says Jeremy Wisham, an AmeriCorps volunteer who coaches the Atlanta team.
Calvin Riley had a job and an apartment before his company went bankrupt and he was laid off. Eventually he lost everything and became one of the more than 2 million Americans who are homeless. "I was depressed…I never thought I'd be homeless. I never thought I'd be down in the homeless shelter."
A chance encounter with Wisham brought Riley out on the court. Since then, he says, everything has changed. "Playing soccer got me back focused. Being around positive people…helped me to go out and do something." Riley is now enrolled in college classes with a job lined up for when he graduates in a few months. He has lost weight and he quit smoking. "You know, there's a lot of running in soccer. When I first came…I was running constantly. I didn't like the way it made me feel…so after three practices I said, I'm giving it up, man. I am giving it up."
"Street Soccer is about redefining yourself and setting goals," says Lawrence Cann, founder and CEO of Street Soccer USA. "The homeless are usually locked out of normal life so a chance to get in and play and be a part of the team…it's something they can be proud of at the end of the day."
The 16 teams will meet at the end of July in Washington, D.C., for the U.S. Homeless Cup. From there, about a dozen players will travel to Milan to compete in this year's World Homeless Cup. "Soccer is the world's game. It's the people's game, and when you're homeless, you're so alone…but you become part of a community, the soccer community, probably the biggest community in the world," says Cann.
Riley believes that support has been key to his success. "When you join this team, it's like a family. If you need anything, we'll be there for you."
Do you think sports could be a solution to homelessness? Has sports ever helped you overcome an obstacle?
Editor's Note: Medical news is a popular but sensitive subject rooted in science. We receive many comments on this blog each day; not all are posted. Our hope is that much will be learned from the sharing of useful information and personal experiences based on the medical and health topics of the blog. We encourage you to focus your comments on those medical and health topics and we appreciate your input. Thank you for your participation.