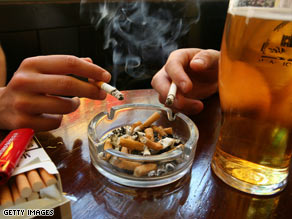 By Elizabeth Landau
CNN.com Health Writer
Since allergy season began in late March, I have been trying to avoid settings where a lot of people are likely to be smoking. Even outside in Atlanta's hipster neighborhood of Little Five Points, I found myself coughing uncontrollably last week when walking past a group of people smoking on a corner. Allergists agree that cigarette smoke aggravates allergies.
But a new study recommended by the Faculty of 1000 Biology challenges this conventional wisdom. Researchers at Utrecht University in the Netherlands took mast cells, which play a role in the immune response to allergies, from mice, and treated them with a smoke-infused solution.
They found that the smoke treatment prevented the mast cells from releasing inflammation-induced proteins, which is what normally happens when exposed to allergens. The smoke solution did not affect other mast cell immune functions, the researchers said. This anti-allergy effect would likely hold true for humans, they wrote.
The general idea that smoke would help allergies is surprising, said Dr. Stanley Fineman, allergist with the Atlanta Allergy and Asthma Clinic.
"In humans, we know from the patients that we see that cigarette smoke is very irritating to the mucosa, the lining of the airways," he said. "People who have allergies tend to have inflamed respiratory mucosa."
Years of patient work has shown that smoke is detrimental to people with allergies, he said.
Whatever benefits to allergies cigarette smoke may theoretically carry, the costs are hard to ignore: Cigarette smoking accounts for about 30 percent of all cancer deaths nationwide, according the American Cancer Society. About 87 percent of lung cancer deaths, the leading cause of cancer death among both men and women, are caused by smoking. Smoking can also lead to other types of cancer.
Editor's Note: Medical news is a popular but sensitive subject rooted in science. We receive many comments on this blog each day; not all are posted. Our hope is that much will be learned from the sharing of useful information and personal experiences based on the medical and health topics of the blog. We encourage you to focus your comments on those medical and health topics and we appreciate your input. Thank you for your participation.