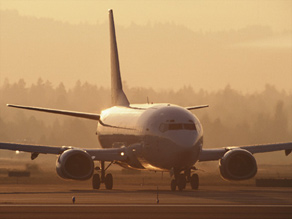 By Elizabeth Landau
CNN.com Health Writer/Producer
"We've come up with a compromise," the flight attendant told me.
I was on a flight from Amsterdam to Atlanta in October. I had almost made it back to America in perfect health after two weeks in Moscow. But now hundreds of people on this 747 were about to release toasted almond particles into the air at once, and unfortunately, I'm among the 3 million Americans who are allergic to peanuts and/or tree nuts. Some people may experience symptoms just from breathing the offending food, but there's no way to predict how strongly any particular individual will react.
Maybe I'm paranoid but, given that I have endured near-fatal reactions from eating these foods, and a strong smell alone seems to prime my body for sickness, it's hard to justify taking a chance. It's especially worrisome on a long flight over the Atlantic Ocean.
Sure, I knew what I was getting into – I had thoroughly researched the airline's peanut policy, but I hadn't counted on other forms of nuts as the main snack. Still, when I flew out to Amsterdam, the cabin crew not only refrained from serving the nuts at my request, but also made an announcement that there was a passenger on board who has peanut and nut allergies, and could everyone please refrain from eating these products. I felt safe for the entire flight.
Coming back to America, on the other hand, the flight attendant in charge of my section questioned why I would be flying at all if I had such a problem. Even after I explained my previous experience, the person in charge made the decision that nuts would be served, no matter what.
The compromise was that I would spend a little over an hour in quarantine, sitting in a small curtained-off area at the very back of the cabin with the food and drink carts. I sat on a folding chair and played with my laptop, moving every few minutes so the flight attendants could squeeze by.
Making things even more confusing, some airlines' policies seem to change every few years, and sometimes snacks vary according to the route. There are a few airlines, though, that seem to be consistently peanut-free these days, and they're the ones that I use every time I travel within the U.S. Note that I've never been in a situation in the U.S. where people around me brought their own peanuts or even any other strong-smelling nut product to eat on a plane and, anecdotally, I question whether airplane passengers like eating peanuts that much.
So when I heard about Northwest reintroducing peanuts on board this month, I sighed – another airline to cross off my list. Would it really be so hard to just serve pretzels?
Do you have food allergies? What have you experienced when flying?
Editor's Note:  Medical news is a popular but sensitive subject rooted in science. We receive many comments on this blog each day; not all are posted. Our hope is that much will be learned from the sharing of useful information and personal experiences based on the medical and health topics of the blog. We encourage you to focus your comments on those medical and health topics and we appreciate your input. Thank you for your participation.