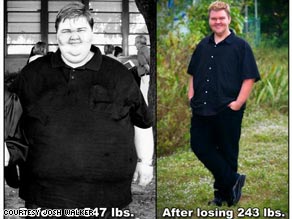 By Jennifer Pifer-Bixler
CNN Medical Senior Producer
One of my favorite television shows is "Intervention." On the show, people with harrowing addictions are confronted by loved ones with the help of a trained interventionist. Typically, the episodes end with the addicts going to rehab. It's my idea of "must see TV": trauma, drama and redemption all wrapped into an hour. Most of the time, the people on the show are addicted to drugs or alcohol. But there was one addict with a different story. Josh was a compulsive overeater. In his early 20s, Josh spent his days gorging on fast food and sweets. He weighed nearly 550 pounds and was miserable. Every time Josh walked up the stairs, he felt as if he were going to have a heart attack. Something about Josh really struck me. He had a gentle demeanor. His passion was singing and he had a beautiful voice. When he went away to the rehab, I was really rooting for him. The other night, I caught a follow-up episode on Josh. It's hard to believe what's happened to him.
Josh's story came to mind as I read an unsettling statistic. For the first time, obese Americans now outnumber the merely overweight. According to the Centers for Disease Control, 32 percent of Americans are overweight, 34 percent obese and 6 percent are extremely obese. To put that into perspective, if you are 5 feet 5 and weigh 150 lbs, that's considered overweight. If you weigh 180, that's considered obese. Statistically, women as a whole tend to be a tad more obese then men. As we've pointed out many times, America has an obesity epidemic. Over the years, we've seen a number of carrots and sticks offered as ways to combat to this major U.S. health issue. Some health insurance policies offer discounted gym memberships to help people watch their weight. In New York City, certain restaurants have to post calorie information on menu and menu boards. In Mississippi, lawmakers even discussed proposing a bill that would make it illegal for restaurants to serve obese people. That idea was shot down pretty quickly. Ideas abound. But still the numbers go up. Why? I decided to ask an unconventional expert.
I tracked down Josh. He is doing great. In the past year and a half, he has lost close to 249 pounds. He's now around 300 pounds and is working hard to lose 100 more pounds. I asked him why he thought the number of obese Americans is growing. While he doesn't claim to speak for all obese people, Josh thinks for most of them food is an addiction. "It's a cheap way to stuff down emotions," says Josh. "I used food as a drug so I didn't have to feel." Josh says food for him is like booze for an alcoholic. "I don't think it's a matter of willpower. I could not control the power of food," he says. He couldn't just have one sliver of cake. "I'd eat the whole thing," he says. Like an addict looking for his next fix, Josh says, he use to plan his days around when he was going to eat and what. When he went into rehab, Josh says he had to come to terms with some things about who he is and what he wants. "The number on the scale is just one small part of the story," he says. "The real miracle has come through my spiritual and emotional growth. My goal is to help other people who have been where I was."
I love Josh's story and hope he continues to lose the weight and grow into the man he wants to become. His confidence is soaring. He plans to audition for "American Idol" and "America's Got Talent." Josh has become a success story in America's obesity epidemic. I am curious. Do you think obesity is the result of addiction? Do you think health insurance companies should pay for compulsive eating rehab?
Editor's Note: Medical news is a popular but sensitive subject rooted in science. We receive many comments on this blog each day; not all are posted. Our hope is that much will be learned from the sharing of useful information and personal experiences based on the medical and health topics of the blog. We encourage you to focus your comments on those medical and health topics and we appreciate your input. Thank you for your participation.