By Elizabeth Landau
CNN.com Health Writer/Producer
I was a junior at Princeton when a group of student journalists and I excitedly sat down for dinner with Los Angeles Times columnist Joel Stein at J.B. Winberie Restaurant about three or four years ago. Whenever I dine out with people I don't know well, it's always a little embarrassing to tell the server that I have severe allergies to all nuts and peanuts. It's especially embarrassing when a writer I admire is a dinner guest – so I try to be as discreet as possible when inquiring about the ingredients that went into certain menu items. (Of course, it would be all the more embarrassing to actually incur a life-threatening reaction at the table).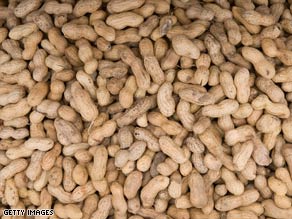 Recently I was surprised to read a column expressing that, in Stein's view, food allergies are on the rise because of "Yuppiedom." His argument is that the increase in food allergies among children in the U.S. is best explained by paranoia-fueled mass hysteria. He writes that "peanut allergies are only an issue in rich, lefty communities" and that the parent of an allergic child is perhaps just "a parent who needs to feel special." (Read the column)
Let me reiterate that I greatly admire Stein as a writer, and his columns are often funny in a good way. But this issue is not light-hearted. About 12 million Americans have food allergies, and the statistics are more concerning among children – one out of every 17 children under 3 years old in America has an allergy, according to the Food Allergy and Anaphylaxis Network (FAAN). Some of those 12 million, like me, have had near-fatal reactions to common foods, such as milk, eggs, fish, shellfish, peanuts, tree nuts, wheat and soy. Some of the children will grow out of their allergies but, experts say, many with seafood or nut problems need to avoid those foods for life. It's true that we don't know why allergies have been on the rise – experts say maybe Americans are overly hygienic, or that it's genes, or environmental factors – but I'm pretty sure it's not because of "Yuppiedom" that I had to go to the hospital a few years ago after eating the wrong cookie.
Perhaps most troubling, Mr. Stein suggests we probably don't need explicit ingredient labels or to take peanuts out of schools because "food allergies kill about as many people as lightning strikes each year." Even if the actual food allergy mortality rate is low – a number that would undoubtedly be hard to measure because the cause of death may be misdiagnosed – perhaps it's related to all of the life-saving interventions that exist today, most notably the portable epinephrine injection sold as EpiPen. Without the prevalence of EpiPens and the conscientiousness of food companies, schools and restaurants, perhaps that death rate would be a lot higher.
Albeit perhaps unintentionally, Stein does make a good point about food labels. While there are not literally labels that say "made in a factory that also has a break room where a guy named Dave often sneaks in a King Size Snickers despite this 'diet' he says he's on," parents do have to wonder whether that description is any more meaningful than "made in a factory that processes products with peanuts." The truth is that we really don't know what any of this means in terms of how safe those products are for children with peanut allergies. The Food and Drug Administration's held a public hearing in September on this very issue.
The bottom line is that, for those millions of Americans who have food allergies, well-informed awareness of the issue is critical. Perhaps there are parents out there who are unnecessarily paranoid about their children having allergies, but it wouldn't have become an issue if there weren't plenty of parents with legitimate, evidence-based concerns about their children who really could die from common foods.
For those of us who DO have allergies, please don't throw peanuts back at us.
Editor's Note: Medical news is a popular but sensitive subject rooted in science. We receive many comments on this blog each day; not all are posted. Our hope is that much will be learned from the sharing of useful information and personal experiences based on the medical and health topics of the blog. We encourage you to focus your comments on those medical and health topics and we appreciate your input. Thank you for your participation.