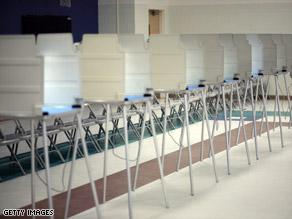 By Dr. Sanjay Gupta
CNN Chief Medical Correspondent
When I am in the operating room, I am a very good decision maker. I make the right decision, and I make it quickly. Place a burr hole here instead of there. Extend the fusion to T1 instead of C7, or use a fenestrated clip instead of a straight one. I am good at those decisions. Ask me to pick out a tie in the morning, and I am seemingly paralyzed until my sleepy wife comes over and yanks one out and hands it to me. It is always the perfect tie and no surprise; she thinks I am a terrible decision maker. She thinks I can be wishy washy.
When it comes to decision making, I am apparently not alone. And, thanks to Sam Wang, a neuroscientist from Princeton, (read study) I may have a pretty good defense. There is no question there are still a lot of people who are undecided when it comes to picking a president, and Sam has a pretty good idea why. He, along with his colleagues think peering into the brain may offer a few clues.
Generally speaking, decision-making can be broken down into two distinctive pieces. The first part is when you gather evidence, and then second part is when you commit. That can be like a switch going off. In the brain of an undecided voter, it may be that "evidence gathering" part that is simply taking longer. It's not that these undecided are indifferent, according to Wang, but they are more willing to take their time, essentially trading off speed for accuracy. At some point though, they typically hit a tipping point and the decision is activated.
Other undecided voters may have an even more interesting process happening. They have already made up their minds, but they haven't committed yet. They will tell you they are undecided, even though their brain has gathered the necessary evidence and a decision has been activated. Often times, people around them already know the individual's decision, before the individual does. When my wife picks out that tie for me, she may already know that tie is my preference, even though I haven't decided yet. There is a third group as well. This is a group that thinks they have decided, but when it comes to actually voting, they switch their minds at the last second. They thought they were committed emotionally, but the brain had gathered evidence and pointed them in a different direction.
It gets a little confusing.
Wang thinks you can tease out the true intentions of an undecided voter by asking more open-ended questions in polls. So, instead of asking, "Whom would you vote for if the election were held today, Sen. Obama or Sen. McCain?" Instead, you ask, "Who do you think understands your problems better?" or "Are you more concerned about the economy or terrorism?" or even "Which candidate has the better temperament?"
None of these open-ended questions would help me pick out a tie, but they might help you decide on electing a president. Are you still undecided? If so, why do you think you are still uncommitted?
Editor's Note: Medical news is a popular but sensitive subject rooted in science. We receive many comments on this blog each day; not all are posted. Our hope is that much will be learned from the sharing of useful information and personal experiences based on the medical and health topics of the blog. We encourage you to focus your comments on those medical and health topics and we appreciate your input. Thank you for your participation.