By Dr. Sanjay Gupta
CNN Chief Medical Correspondent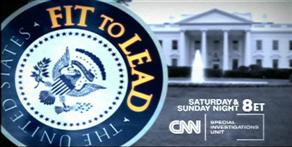 Lately, there has been a lot of talk about double standards when it comes to the health of the presidential candidates. An ad from the group Brave New Films that ran in the New York Times called for Sen. John McCain to release all his medical records to the public, not just journalists. McCain campaign officials told us this was a double standard, reminding us that Sen. Barack Obama released only a one-page summary, basically stating he was in excellent health.
But, when it comes to double standards, there is something else worth considering. We have retirement ages for many different professions in this country. CEOs at many large companies including American Airlines, Boeing and Exxon are required to step down at 65. Airline pilots, for example, must retire at 65, a limit set by Congress. Generals and admirals in the U.S. military face a mandatory retirement age of 64, even though their commander-in-chief does not. As we all know, there is no mandatory retirement age for president.
Over the last several months, we have been looking into what it takes to be "Fit to Lead." No doubt, we have seen McCain for the last 18 months tirelessly campaigning and certainly being more active than most people half his age. I have gone to sleep watching him on television and there he is again, when I wake up. Some say that should be evidence enough his stamina to lead the country. As we have blogged about in the past, cancer is the foremost issue for him, but his own doctors have given him an unequivocal thumbs up.
Ronald Reagan was our oldest president: He was 77, at the end of his second term. At 72, McCain would be the oldest ever sworn in as a first term president. But, Golda Meir was prime minister of Israel until she was 76. French President Charles de Gaulle was 78. And, South Africa's Nelson Mandela was 80.
So, does age matter? Should there be an age limit for our leaders?
Programming note: Don't miss CNN Special Investigations Unit "Fit to Lead" with Dr. Sanjay Gupta
Saturday and Sunday, October 11-12 at 8 p.m. and 11 p.m. ET
Editor's Note: Medical news is a popular but sensitive subject rooted in science. We receive many comments on this blog each day; not all are posted. Our hope is that much will be learned from the sharing of useful information and personal experiences based on the medical and health topics of the blog. We encourage you to focus your comments on those medical and health topics and we appreciate your input. Thank you for your participation.