By Karen Bonsignore
Executive Producer, CNN Entertainment News
If it's Tuesday it must be chemo! There are seven chairs in my oncologist's treatment room and most of the time they're all filled. There's an instant camaraderie between patients as we're all battling the same beast. We mostly know each other by our first names and the kind of cancer we have. "Hi I'm Karen. I had ovarian cancer. What are you being treated for?" Lung, colon, and liver cancers dot the room on any given day but breast cancer seems to always dominate.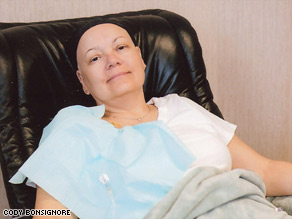 The "old-timers," those who are at or near the end of their treatments, try to reassure newcomers and give them an idea of what to expect. "The first one won't be so bad." "Your hair will fall out after the second or third week." "Make sure you ask your doctor for good drugs to help fight nausea." Most everyone has a "port" through which the chemotherapy is administered and with our IVs connected and our blue "napkins" tucked into our shirt collars we look like adults gathered around the children's table waiting for dinner.
For me, each treatment has been filled with an assortment of side effects ranging from nausea and neuropathy to extreme fatigue. When I completed my third treatment, out of a total of six, my personal cheerleaders reminded me, "You're halfway there!" or "It's downhill from here!" While I acknowledged their encouragement, I could only think to myself that I wanted to quit after round two. How the heck am I going to make it through three more?
At this writing I've just completed my last treatment. After four months of chemo I am finally done.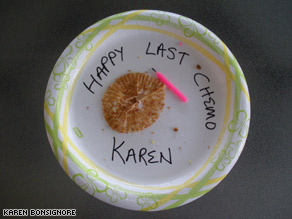 The nurses gave me a mini-cupcake with a candle in it and sang "Happy Last Chemo" to me. I looked into the faces of my acquaintances as they left. We exchanged wishes for good luck on the way out the door and I wondered how long these new friends would live. I wondered about my own condition.
One of my doctors told me that it's not uncommon for people who have completed chemotherapy to become depressed. While going through treatment it feels like we're taking an active step to kill whatever cancer cells remain. When it's done, all you can do is wait.
I can't go back to a time before my cancer was diagnosed, and so my life will never be the same again. The threat of recurrence is real and its presence has changed my life forever. While I'm wary of this phantom, worrying each day that I'll be marked for another marathon dance is paralyzing. I now totally and completely understand that I have only the moment I'm in.
Having cancer has taught me to be more compassionate, more patient with others and myself, and to live my life more fearlessly. It has allowed me time to be with myself and to truly embrace my feelings. It has given me a chance to say "thank you" hundreds of times. As I write I am filled with love and gratitude for all of the support given to me by my extraordinary family, friends and co-workers, for all of the wonderful doctors and nurses who have taken care of me, and for all the others who have simply cared enough to stop and ask how I was doing.
I leave this place now with a brave and open heart, and with a little rest I'll be ready again to deal with whatever comes next.
Have you faced down a disease? What was the biggest thing it taught you?
Editor's Note: Medical news is a popular but sensitive subject rooted in science. We receive many comments on this blog each day; not all are posted. Our hope is that much will be learned from the sharing of useful information and personal experiences based on the medical and health topics of the blog. We encourage you to focus your comments on those medical and health topics and we appreciate your input. Thank you for your participation.