By Sabriya Rice
CNN Medical Associate Producer
My 85-year-old grandfather is making a transition from a life of preparing taxes to a life less taxing. After living in the same New York apartment for 56 years, he's moving to Florida. Though diabetes has affected his vision, and he's struggling with a leg injury he suffered during World War II,* mostly he's as healthy as a horse. But because of his age, our family was naturally starting to worry about him living alone.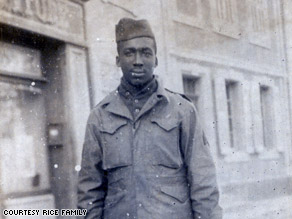 The move wouldn't be unusual except one of my grandfather's mottos in life has always been "If you stop, you die." And in a sense, he is stopping. After more than a half of century working as a self-employed tax preparer, remaining an active community leader and a regular attendee at a historic Baptist church in Harlem, he's giving it all up to, as he says, "twiddle his thumbs."
He's excited about relaxing, and will be in good hands with people who love him. But I can't help but wonder how the transition will affect his health. What if he starts to view himself as "old" – which is something he has never done? I turned to some experts for guidance.
According to Dr. James Lah, a neurologist at Emory University, my concern is legitimate. He says one of the biggest hazards after retirement, whether at age 55 or 85, is that people lose what has been for years a "routine of stimulating activities." The worst thing you can do when you retire, is to "retire." For the elderly, organized senior communities are great in the absence of extended family. But no matter where you go, Lah says, the most important thing is to set up a schedule – a daily routine – to help maintain mental activity and purpose.
This sentiment is shared by Dan Buettner, a longevity explorer and author of the book "The Blue Zone" (www.bluezones.com). He says many of the world's longest-living people share a concept known in Japan as an ikigai, or a sense of purpose. Buettner offers the examples of a 103 year-old Costa Rican man whose daily task is to prepare soup for the entire family, and a 104-year-old woman in Loma Linda, California, who makes it a priority to collect and recycle cans from her neighbors. It may sound obvious, but "feeling needed" can add extra years to your life.
Simply put, having a sense of purpose gives you something to live for. And as both Buettner and Lah agree, some of the residual effects of having that purpose are: remaining vigilant about general health, taking medications and eating well.
So, as my grandfather starts anew in the Sunshine State, I am comforted knowing the change doesn't mean the end. He won't really just "twiddle his thumbs." In fact he already has the next few months booked, and may be able to squeeze me in only around December. Unless, of course, he goes on that cruise he's planning.
Have you ever had a similar concern? What sense of purpose keeps you going?
*He suffered the leg injury on February 6, 1945, deactivating bombs during World War II. He served as a sergeant with the 113th Engineering Battalion. Did I mention – his memory is impeccable?
Editor's Note: Medical news is a popular but sensitive subject rooted in science. We receive many comments on this blog each day; not all are posted. Our hope is that much will be learned from the sharing of useful information and personal experiences based on the medical and health topics of the blog. We encourage you to focus your comments on those medical and health topics and we appreciate your input. Thank you for your participation.