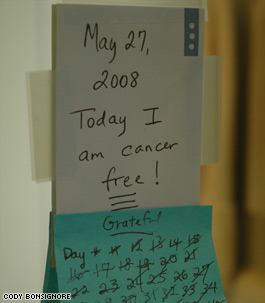 September is National Ovarian Cancer Awareness Month. It's a disease that touches more than 20,000 women each year, including some of CNN's own. Karen Bonsignore, executive producer of CNN Entertainment News, got her diagnosis in May. Every Friday this month, she'll share parts of her personal journey.
By Karen Bonsignore
Executive Producer, CNN Entertainment News
When you have cancer, your well-meaning family and friends are likely to tell you that in order to keep the disease at bay you need to think positively. To help my mind from straying, I was given an assortment of life-affirming gifts: prayer beads blessed by the Dalai Lama, a St. Christopher medal, bracelets and necklaces with charms for good health, books and meditations. I even bought a few for myself.
While I was still in the hospital recovering from surgery I imagined that there was an intricate community that lived inside me. There were seamless, titanium walls that lined the inside of my body. I chose dozens of tiny people to live there including architects and engineers, chefs who specialized in preparing only the healthiest and most nutritious foods, physical trainers, Olympic weightlifters, and NFL linebackers who were responsible for ensuring that the walls held up. Together they promised not to let any rogue cancer cells in. Ever.
When I returned home from the hospital I put up a Post-It note on my bathroom mirror that read:
May 27, 2008
Today I am CANCER FREE
Beneath those words I counted each day post surgery. I thought that I would count to 365, at which time I would celebrate a year of being cancer free. I was vigilant about marking the days until one Thursday I simply forgot. By the time I realized that I'd stopped, I'd lost count altogether. I didn't need to look back to see how far I'd come; I knew very well what I'd been through and I only wanted to face forward.
I'm a firm believer in the mind-body connection but I'm here to tell you that it's nearly impossible to think positively when your bones hurt, your muscles ache, you're nauseated and you're so exhausted you can barely move. In fact, some people believe that if they don't think positively all of the time, they will somehow cause their cancer to return. For me, dark thoughts are inevitable, and when they surface I allow them to enter, I feel them and acknowledge whatever fear comes to pass, and then I ask them to leave. On one particularly difficult day I asked my son, Cody, how I was supposed to remain positive when I felt so awful? He answered simply: I guess you just have to believe that tomorrow will be a better day. And so I do.
I believe that tomorrow will be a better day. I believe that I am strong. I believe that I'm meant to do more here on this Earth. I believe that I will be cured. I believe that I will live.
How has positive thinking affected you?
Editor's Note: Medical news is a popular but sensitive subject rooted in science. We receive many comments on this blog each day; not all are posted. Our hope is that much will be learned from the sharing of useful information and personal experiences based on the medical and health topics of the blog. We encourage you to focus your comments on those medical and health topics and we appreciate your input. Thank you for your participation.