By Dr. Sanjay Gupta
CNN Chief Medical Correspondent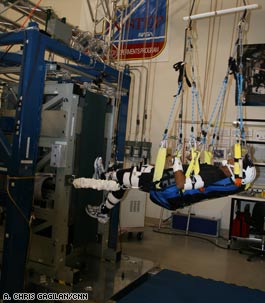 A few weeks ago, my producer Chris Gajilan and I got on the phone to talk about a series of stories we wanted to do on space medicine. I was really excited because since I was a kid, I have always been interested in space and had dreams one day of going there. Life, though, does sometimes take you in different directions, and I opted for the brain surgery job, instead of the rocket scientist…ba dum. I'll be here all week…
Seriously, though, when I heard NASA scientists had come up with a model of weightlessness here on Earth, I jumped at the chance to investigate. It wasn't exactly what I expected. In order to re-create the fluid shifts that are seen with prolonged space travel, scientists decided to put a group of patients at bed rest… for 3 months. Head down about 6 degrees, feet up, and absolutely no getting out of bed. As I learned, while extremely cumbersome, it is a pretty good model.
Over time, lots of things start to happen to your body, things that can be devastating. Turns out, as human beings, we like a little gravity. It keeps just enough pressure on our joints and bones to keep them strong. Without the usual gravitational force, our bones start to wither away. And, the calcium that starts seeping out of the bones finds its way into our bloodstream and can cause painful and sometimes dangerous kidney stones. Astronauts can develop advanced bone loss. As astronauts push farther into space on longer missions, the concern is that they will face debilitating osteoporosis so severe they can spontaneously break bones.
So, NASA scientists now had two challenges. One was to create the model. Two: figure out a way to prevent some of these serious health problems when astronauts are in space for prolonged periods. Tomorrow, I will tell you what the smartest minds in the world came up with; but today, I wanted to see what you thought. What do you think are some of the biggest health problems for astronauts in space and what do you think could be done about them?
If you want to cheat… take a look at this preview (watch video).
Editor's Note: Medical news is a popular but sensitive subject rooted in science. We receive many comments on this blog each day; not all are posted. Our hope is that much will be learned from the sharing of useful information and personal experiences based on the medical and health topics of the blog. We encourage you to focus your comments on those medical and health topics and we appreciate your input. Thank you for your participation.