September is National Ovarian Cancer Awareness Month. It's a disease that touches more than 20,000 women each year, including some of CNN's own. Karen Bonsignore, executive producer of CNN Entertainment News, got her diagnosis in May. Every Friday this month, she'll share parts of her personal journey.
By Karen Bonsignore
Executive Producer, CNN Entertainment News
My cancer was found accidentally. I was one of the lucky ones. It was while being treated for a blood disorder that I learned that I had cysts on both of my ovaries. After numerous tests and scans, my doctors believed that they were benign but nevertheless needed to be removed. I went into the hospital in late May believing that I was cancer-free. Since I was past my child-bearing years, I planned to have a hysterectomy as a precaution. I knew, however, that nothing was 100 percent certain until the doctors actually took a look.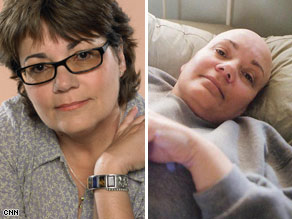 Karen Bonsignore before and after chemotherapy
My surgeon came to my bedside the night following my surgery and asked if anyone had talked to me yet. My family and friends knew what had been found during my surgery but felt the news was better coming from him. When the doctor took my hand, the world stopped. I'd never felt such sheer terror as in the moment before he spoke. I had ovarian cancer, he said gently. I gasped, and in the second before he spoke again, I panicked: I knew that most ovarian cancer is found in advanced stages, when the chance of long-term survival is much less. He continued: My cancer was stage IIc: present in both ovaries, on the pelvic wall, and in the abdominal fluid, but not detected in my lymph nodes. My survival chances were considerably better than if found later. I was so relieved, so incredibly grateful, and I prayed incessantly for several days that I would be healthy.
In the weeks after my surgery it was difficult for me to accept the diagnosis. In a matter of a few hours I had gone from believing I was cancer free, to having cancer and then having it all removed. A cancer diagnosis was inconceivable to me. I struggled to understand what part in my life it played. I didn't even know how to refer to it: Was it correct to say "I have cancer" or "I had cancer"? How did I suddenly become a cancer survivor?
Cancer for me was like hosting an uninvited guest who has overstayed his welcome the moment he arrived. Although intellectually I knew that there are no guarantees, it was the first time I ever questioned whether I'd live to see my son get married or my grandchildren be born. The presence of cancer brought so many uncertainties to bear: Would I ever be truly healthy again? Would I be able to work? How else would my life change? I was at the beginning of the process and I was looking down a very long road to an undetermined destination.
Have you fought ovarian cancer? What did you learn from it?
Editor's Note: Medical news is a popular but sensitive subject rooted in science. We receive many comments on this blog each day; not all are posted. Our hope is that much will be learned from the sharing of useful information and personal experiences based on the medical and health topics of the blog. We encourage you to focus your comments on those medical and health topics and we appreciate your input. Thank you for your participation.