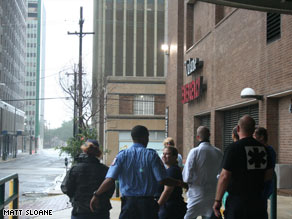 By Matt Sloane
CNN Medical Producer
Embedded at Tulane Medical Center, New Orleans
Sitting here at Tulane Medical Center, looking out the window, the blowing palm trees are the only indication that Hurricane Gustav is overpassing us as I type this.
The lights are still on. The phones are still working. Even the internet is up and running.
There are still patients here at the hospital, although very few remain after mass evacuations yesterday. The emergency room remains open and ready to accept patients, but the only people I've seen walk through the door are the paramedics waiting to respond to any emergencies.
So for now – we wait and hope for the best.
Editor's Note: Medical news is a popular but sensitive subject rooted in science. We receive many comments on this blog each day; not all are posted. Our hope is that much will be learned from the sharing of useful information and personal experiences based on the medical and health topics of the blog. We encourage you to focus your comments on those medical and health topics and we appreciate your input. Thank you for your participation.