By Matt Sloane
CNN Medical Producer
If you've ever had a chance to look at my future mother-in-law's brain scan, which oddly enough I have, you can't help but notice a giant starburst in the middle. It's not radio receiver or an implanted cell phone. (That would be cool though). It's a titanium coil.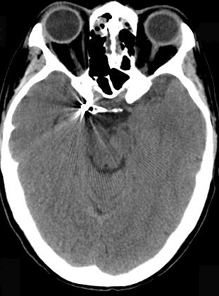 Janice's brain scan shows a starburst-like image where the coil is placed
Why does Janice have a metal coil in her brain? It's not to make her smarter. (If it were, I'd get one put in too!). The coil is the latest minimally invasive treatment for a ruptured aneurysm, and much like a cardiac stent, it is passed through veins in the groin, all the way up into the brain. Think of it like plugging a tire that has a blowout.
The truth is though, not many people have this coiling done, because not many people survive a rupture. According to the Brain Aneurysm Foundation, only 50 percent of people actually make it to the hospital alive after a rupture, and 50 percent of those who do won't live through surgery.
Vice presidential candidate Joe Biden was lucky enough to identify two aneurysms and have them removed before they ruptured. (One had started to leak a bit). Rep. Stephanie Tubbs Jones was not so lucky. She passed away just last week after her aneurysm burst.
These are grim statistics for a condition that most people don't even know they have until it's too late. So what can you do to protect yourself?
First, know your family history. My fiancée, Amanda, is seriously considering having a scan to see if there are silent aneurysms growing in her head.
Second, get the right scan. An X-ray won't show it, nor will a CAT scan nor an MRI. One of the only scans that can detect an aneurysm is what's called an MRA, or Magnetic Resonance Angiography. It's similar to an MRI, but looks at the blood vessels in the brain, rather than the anatomical structure. Most insurance companies won't cover MRAs simply because of a family history of aneurysms, but in Amanda's case, I think it would be worth the $1,000 to know she is safe.
Third, know the symptoms. There aren't many, but if you can recognize them quickly, it can mean the difference between life and death. Sudden, severe headache is the most common one, along with light sensitivity, nausea and unexplained vomiting. Janice told me it felt as if someone had slammed her in the back of the head with a baseball bat.
September is Brain Aneurysm Awareness Month, so make sure you pass this article along to your loved ones.
Today Janice looks at her starburst as a badge of honor, but I'm sure it's one she'd rather not have.
Do you know someone who's had a ruptured aneurysm? What kind of symptoms did they have?
Editor's Note: Medical news is a popular but sensitive subject rooted in science. We receive many comments on this blog each day; not all are posted. Our hope is that much will be learned from the sharing of useful information and personal experiences based on the medical and health topics of the blog. We encourage you to focus your comments on those medical and health topics and we appreciate your input. Thank you for your participation.