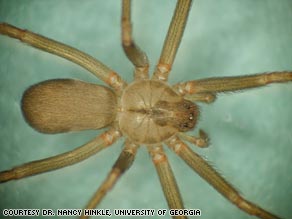 By Matt Sloane
CNN Medical Producer
I hate spiders. I have always hated spiders, and until last week, I thought I always would hate spiders. But then, in a building reminiscent of a 1970s government office building, I had an experience with spiders that I won't soon forget.
As I walked into her office at the University of Georgia, Dr. Nancy Hinkle, a veterinary entomologist, started to quiz me about the spiders she had sitting on the window ledge in petri dishes. "Which one is the brown recluse spider?" she asked. Being a novice, I picked the biggest, nastiest, hairiest-looking one and said "that's it!"
"You picked the same one as my grad student did," Hinkle said. "So congratulations, but you're not correct."
Matt – 0, Spider Lady – 1.
Dr. Hinkle gave me a hint about the brown recluse, "They call it the fiddleback spider, because it has fiddle-shaped marking on its abdomen."
She challenged me again. This time I picked out the wolf spider, which has a banjo-shaped marking on its back (remarkably similar to a fiddle, I might add, on a spider that small).
Matt – 0, Spider Lady – 2.
What I came to find out in that next hour was that the brown recluse was not much scarier looking than your common house spider. The brown recluse is the subject of urban folklore, and for good reason: Its venom, pound for pound, is one of the most toxic substances known to man. But, true to its name, the spider is reclusive. As Hinkle put it, "If you actually see a spider, chances are it's not a brown recluse."
Very comforting.
In addition to the brown recluse spider being reclusive, it's only found in a few areas of the country, primarily in the midwest, spreading into parts of the southeast. Oh, and one other thing. The brown recluse takes months to make enough venom to kill its prey, so chances are, it won't waste it on you – something way too big for it to kill – because it would go hungry for a few months.
Still worried that a recluse will come after you? Consider this - the chances of the "fiddleback" spider being in your home, coming out of hiding, biting you, and injecting venom into you are slim. Even if it did, experts say about 95 percent of brown recluse bites go away without complications. But, if you are one of the unfortunate few who do have a bad reaction, you should go to a doctor immediately. Brown recluse venom can cause major damage to tissue surrounding the bite, as well as tissue along the path the venom takes through your body. If it makes its way into your bloodstream, it can cause a condition called hemolysis, where red blood vessels actually burst. The condition can become life threatening.
All in all, I'm still afraid of spiders, but a little less so than before I met Hinkle. Have you had a run-in with a brown recluse?
Editor's Note: Medical news is a popular but sensitive subject rooted in science. We receive many comments on this blog each day; not all are posted. Our hope is that much will be learned from the sharing of useful information and personal experiences based on the medical and health topics of the blog. We encourage you to focus your comments on those medical and health topics and we appreciate your input. Thank you for your participation.