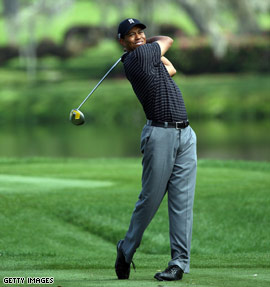 By Dr. Sanjay Gupta
CNN Chief Medical Correspondent
Every year in the United States, there are around 200,000 ACL injuries a year. As you might guess, they are most common in soccer, football and basketball. So, when you heard about Tiger Woods golf injury, you may have been a little surprised. In fact, he has had four knee operations since 1994, with the most serious one being on June 24th of this year. As you watch this video, pay close attention to the left knee and the amount of torque that is placed on it. There is a pivot like motion that orthopedic surgeons seem to believe caused the problem.
The operation itself is a fairly straightforward one but now the name of Tiger's game is rehab.
Woods tell us in his blog that he is more mobile than a month ago, and that he spends most of his rehab time riding a stationary bike. It sounds like he would look a lot different as well. He says he has lost 10 pounds of muscle and is mainly eating a raw and organic diet. The kicker is that he is not even planning on swinging a golf club until next year. That's quite a change of lifestyle for someone who has played golf for almost his whole life.
When Tiger does come back, he may have a different swing than the one he has now. He may not be able to generate the same amount of force and may not have the same pivot that we are so accustomed to seeing. If you had to assign a number to it, between 82 -95% of athletes do make a recovery. (watch my report)
Have you ever had knee surgery, arthroscopic or a ligament repair? What was the most challenging part of rehabilitation? Did you ever get back to full function?
Editor's Note: Medical news is a popular but sensitive subject rooted in science. We receive many comments on this blog each day; not all are posted. Our hope is that much will be learned from the sharing of useful information and personal experiences based on the medical and health topics of the blog. We encourage you to focus your comments on those medical and health topics and we appreciate your input. Thank you for your participation.