By Dr. Sanjay Gupta
CNN Chief Medical Correspondent
It's a curse. It is something I have dealt with as far back as I can remember. And, now I even see it in my 16-month-old daughter. In fact, I was the first to diagnose the reason she absolutely hates riding in her car seat for long rides. Like me, she has what doctors will call a mismatch of her sensory system. Others know it as motion sickness. Awful motion sickness. My first clue was that the video player we thought might help, really made things worse. Have her look out the window and even suck on a little ginger, and she is a new baby. 
You may know the feeling. Your heart starts to race, you feel queasy and you start to sweat. It is one of the worst things, and it is often hard to get any relief. The problem is that there is a mismatch between your eyes and your inner ear. If you are in a car, your ear knows you are moving, but unless your eyes are being given constant inputs that confirm that movement, the process of feeling "out of sorts" starts to occur. If you happen to be looking down and reading a book or turning around and looking into the back seat to soothe an upset baby, it gets even worse. For my daughter, looking at a stationary movie picture while her ears are telling us we are barreling down the freeway at 70 miles an hour proves to be just too much.  (Watch Video)
The treatments are fairly simple. Always look outside and into the distance preferably. Use antihistamines to prevent and treat nausea, vomiting and dizziness. Ginger and soda can both help settle things down. Simply opening up the window and getting fresh air can help as well. Always sit in the front seat if you can. Even better, drive the car. That will be your best shot at eliminating a mismatch altogether.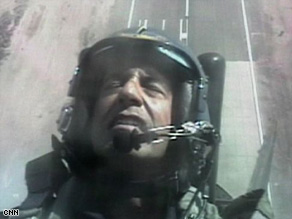 Dr. Sanjay Gupta flying with the Blue Angels
For my job as a reporter, this curse of mine often proves to be one of the biggest obstacles. Whether it is a taxi ride in rush hour, a jeep ride through a jungle in Congo or a boat ride along the Carterets islands in the south pacific, what you hardly ever see on camera is what goes on behind the scenes – and for me, it is not always pleasant. I even took a ride on a Blue Angel Fighter jet for a story about flight physiology (click here to see my mismatch at work). For me, that was almost worse than being in a war zone.
I am curious if you have motion sickness? More importantly, what works for you or your children?
Editor's Note: Medical news is a popular but sensitive subject rooted in science. We receive many comments on this blog each day; not all are posted. Our hope is that much will be learned from the sharing of useful information and personal experiences based on the medical and health topics of the blog. We encourage you to focus your comments on those medical and health topics and we appreciate your input. Thank you for your participation.