By David Martin
CNN Medical Senior Producer
The salmonella outbreak linked to tomatoes, which has sickened more than 850 people since April, is only the latest in a spate of food-borne outbreaks that began in the fall of 2006.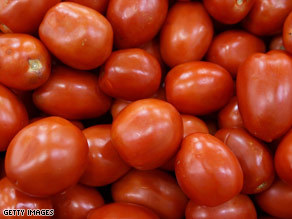 E. coli-tainted spinach killed three and sickened more than 200 that year. Since then, tainted lettuce, peanut butter, olives, mushrooms, beef and now tomatoes have sickened hundreds, perhaps thousands, more. Today the FDA and CDC said they are looking at other produce, in addition to tomatoes, as the source of the current salmonella outbreak. Officials refused to be more specific and did not identify other produce.
Now, seeking to allay consumers' fears, the United Fresh Produce Association is asking for federal safety regulations, an unusual move for a trade group.
"United Fresh believes that for maximum consumer confidence we need mandatory federal standards for fresh produce," said David Gombas, senior vice president for food safety and technology of the group, which represents fruit and vegetable growers nationally.
"Those standards need to be commodity specific because one size does not fit all. They should be risk based and they should be flexible enough to change as science catches up," he added.
A national survey by the Harvard School of Public Health Project on the Public and Biological Security finds most Americans - 58 percent - deem food produced in the United States as "somewhat safe." That's far more than the 37 percent who considered food "very safe."
Dr. David Acheson, associate commissioner for foods at the Food and Drug Administration, said food in the United States is "incredibly safe." Still, he is looking for more legislative authority from Congress to deal with food safety, including federal requirements for growers. There are none now.
The FDA is also hoping to expand inspections oversees in places like China and India, he said. Fewer than 1 percent of imports are now inspected.
"This is not a quick overnight fix," Acheson said. "It's going to be a slow, incremental fix over a number of years.
Meantime, the numbers of the outbreak of a rare form of bacteria called Salmonella Saintpaul has sickened at least 851 people in 36 states and the District of Columbia.
The FDA had linked the outbreak to red Roma, plum and round tomatoes but on Friday the Centers for Diseases Control and Prevention said the cause might lie elsewhere.
"Produce investigations are very difficult because a lot of times vegetables are eaten all together," said Dr. Patricia Griffin, chief of the Enteric Diseases Epidemiology Branch at the Centers for Disease Control and Prevention.
That makes it hard to trace back any one item to a source of contamination, she added. "We continue to keep an open mind about the possible source of this outbreak, as does FDA."
Acheson said FDA officials and tomato growers were involved in "a two-way dialogue."
Do you think the food you eat is generally safe?
Editor's Note: Medical news is a popular but sensitive subject rooted in science. We receive many comments on this blog each day; not all are posted. Our hope is that much will be learned from the sharing of useful information and personal experiences based on the medical and health topics of the blog. We encourage you to focus your comments on those medical and health topics and we appreciate your input. Thank you for your participation.