By Amy Burkholder
CNN Medical Producer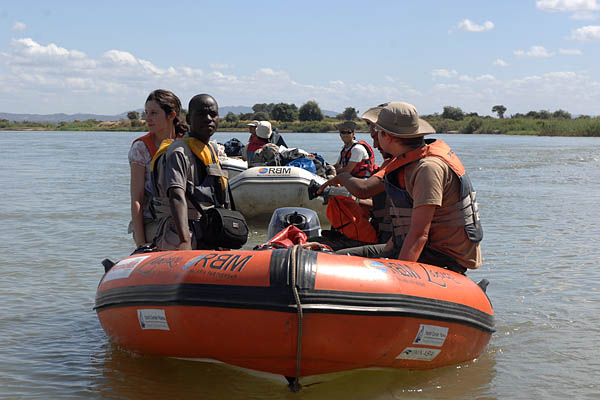 Boats work the Roll Back Malaria Zambezi Expedition Photo courtesy Helge Bendl/www.zambezi-expedition.org
Her system primed with the anti-malaria drug Malarone and her body misted in repellant, Emily Bergantino recalls walking to a remote African village across an empty riverbed littered with pools of stagnant water. "Here I was, in a breeding ground – mosquitos were buzzing around everywhere – it was a malarial mosquito paradise."
And, she recalls the surprise she got when entering the village, one of many scattered along the Zambezi River.
"The villagers greeted us – it was very impromptu – with a skit and musical – acting out how a mosquito bites you, how you get chills –and fever- they pulled me in, pretending to bite me, " she laughs. The skit continued with the malaria workers hanging a bednet from a nearby tree, miming to villagers how, if you simply sleep under the net, it could save your life. And they got it. "These people don't need us to go in every night, they only need the tools, the knowledge – they have the drive to prevent it," she muses.
Bergantino, who works for "Malaria No More"  an organization that just back from the "Roll Back Malaria Zambezi Expedition,"  a two-month mission down the Zambezi River to deliver bed nets and medications to remote river communities along the Zambezi River, including Angola, Botswana, Namibia, Zambia, Zimbabwe and Mozambique.
Another goal, promoting cross-border collaboration to control a highly preventable mosquito-disease that kills over one million people every year, most of them children and pregnant women. 3,000 children die each day of malaria – each death, so easily spared by a $10 bednet, or a $2 drug treatment – but out of reach for people who typically live on less than a dollar a day.
Organizations such as Bergantino's employer Malaria No More, the Global Fund, World Bank, United Nations Foundation and Gates Foundation all understand malaria's toll – and are making prevention priority one. But the uncertain news – will malaria re-emerge in new areas, as the global climate changes?
The World Health Organization acknowledges an important link between a warmer world and mosquito diseases - malaria in Africa- Dengue in Rio – West Nile in New York – and the CDC tells CNN if temperatures increase by just 3-4 degrees, we will see a very different distribution vector disease worldwide. Imagine malaria at your backdoor – it could happen, experts say. Malaria was endemic in the United States prior to the 1940s and it was in fact controlling malaria that led to the formation of the Centers for Disease Control and Prevention.
After seeing a 3-year-old child crying in her father's arms, burning with malarial fever – for Bergantino, the war on the mosquito became very personal – and in a way, frustrating because she sees it as a such a simple, solvable equation.
"We can get lost in this broad concept of global health – but it's as simple as a single mosquito biting a child, and that child dying. One bednet protects a child. If the tool is available, a family stays intact."
If you're a soldier in the mosquito war, and have your own innovative solutions – we'd love to hear from you.
Editor's Note: Medical news is a popular but sensitive subject rooted in science. We receive many comments on this blog each day; not all are posted. Our hope is that much will be learned from the sharing of useful information and personal experiences based on the medical and health topics of the blog. We encourage you to focus your comments on those medical and health topics and we appreciate your input. Thank you for your participation.