By Dr. Sanjay Gupta
CNN Chief Medical Correspondent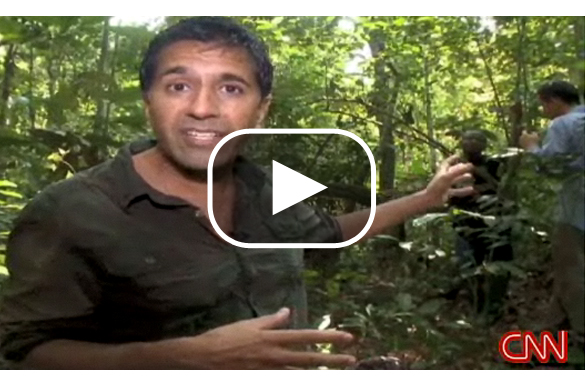 Thursday I did something I am unlikely to ever do again in my life. For eight hours, I trekked through a jungle in southern Cameroon. Now, I have been on hikes before, but this was unlike anything I ever experienced. As soon as we entered the jungle with a local hunter named Dede Donddong, we were immersed in the feel of the wild.
You could immediately hear the sounds of hornbills and an African gray parrot in the distance, loud and melodious. You could also feel the intense heat and humidity uniquely experienced in a jungle. Within seconds, we were drenched. You could smell the centuries of foliage mixed with the live scent of animals. Everything around us was green, almost unimaginably thick. I didn't know how we would even make our way through, as there wasn't a path that I could immediately see. Dede smiled and wielded a machete. He started a path and began our journey. 
For us, it was the pursuit of a story for "Planet in Peril," looking at the bush meat trade and the reliance of locals on these animals for protein. For Dede, it was a mandatory trip to find some sort of bush animal, so that his family might eat that night. As we left, his three kids, two parents, his wife, and three neighbors bade him farewell and good luck. They were all hoping he would come home with something, really anything. But, his kids told us their favorite bush meat was porcupine. Yes, porcupine.  Along with snakes, rodents, primates, antelope and many other animals, they are collectively referred to as bush meat.
We learned about the concerns of a bush meat crisis in Western and Central Africa. According to some estimates, 4.5 million tons of bush meat was extracted from the Congo basin last year, putting a few animals on the endangered list, and a few others on the protected status list. In fact, the ape population in 96 percent of protected areas is declining. Within the next 10-50 years, the apes face extinction. Excessive hunting, along with deforestation is a large part of the problem.
There is no question Dede alone is not to blame. And, don't forget, his family is dependent on his ability to hunt and bring bush meat back to the village. Buying food from bigger villages is simply not an option - the towns are too far away and the food is too expensive. What I've seen is a part of the daily life and culture for so many living in the jungle. Still, the bush meat crisis appears to be real, with no evidence of slowing down. This is one example of the global food crisis in Central Africa.
Oh, and by the way, Dede brought home a porcupine and his kids were happy.
This blog was brought to you from the southern jungles of Cameroon.
Editor's Note: Medical news is a popular but sensitive subject rooted in science. We receive many comments on this blog each day; not all are posted. Our hope is that much will be learned from the sharing of useful information and personal experiences based on the medical and health topics of the blog. We encourage you to focus your comments on those medical and health topics and we appreciate your input. Thank you for your participation.