By Dr. Sanjay Gupta
Chief Medical Correspondent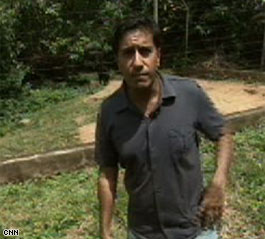 Dr. Sanjay Gupta at a chimpanzee sanctuary in Cameroon.
This week, I am in Cameroon investigating a piece for the CNN documentary "Planet in Peril." I am writing this from a small village called Nyabissan. Don't bother trying to find it on a map. It is in the heart of the jungle and one of the more remote places I have ever been. (Editor's note: the path to Nyabissan was not very forgiving. Dr. Gupta explains HERE)
In fact, you are reading this blog because Neil Hallsworth, our camera man, was able to point a small, portable satellite dish in the sky and get a signal and then send this piece along with some of the video we shot back to Atlanta.
We picked this place because it is a hot spot in the world of viruses. It turns out there is a constant exchange of viruses here between animals and humans. There is a very cozy relationship here between humans and animals, such as rodents, snakes, mammals and other primates.
Just today, we passed two men who had killed an enormous viper, another hunter with a pangolin (also known as a scaly anteater) and two young kids with two dead monkeys. While this "Bush Meat" represents a necessary part of the diet, it can sometimes be a problem.
In fact, if you look at some of the deadliest viruses and other pathogens that have ever plagued mankind, they have come from animals, and many of them from this part of Africa. Somewhere in the hunting, slaughtering and eating of these animals, a pathogen makes a leap.
Most times it is inconsequential, but in a few rare cases it results in disaster. Think about Marburg, ebola, malaria and HIV, not to mention many of the influenza viruses. One of the mandates for the "virus hunters" we're traveling with (Dr. Nathan Wolfe, Mat Lebreton and Karen Saylors, all with the Global Viral Forecasting Initiative) is to try and stop that exchange of pathogens, and in the process stop the next potential pandemic.
Next, I will share my experiences going out into the bush and looking at the practice of safe hunting. As I sit here in the jungle, I am wondering if you think we're doing enough to monitor and stop emerging diseases around the world.
Editor's Note: Medical news is a popular but sensitive subject rooted in science. We receive many comments on this blog each day; not all are posted. Our hope is that much will be learned from the sharing of useful information and personal experiences based on the medical and health topics of the blog. We encourage you to focus your comments on those medical and health topics and we appreciate your input. Thank you for your participation.