By Val Willingham
CNN Medical Producer
 
My father is a World War II vet. As a corpsman in the Pacific campaign, he was in the first Marine battalion to enter the city of Nagasaki after the bomb was dropped.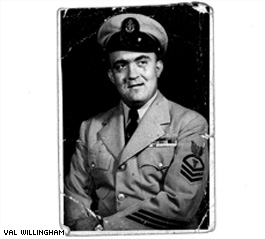 Alexander Wadas was one of the first Marines into Nagasaski after the nuclear bombing, but the U.S. government didn't check on his health for 40 years.
To this day, he doesn't talk about it much.
I would imagine the images of such devastation would live with someone forever. Yet, when my dad got back to the states after the war, no one ever asked him about his experience. No one offered any type of counseling or therapy. He returned to his hometown in upstate New York and went on with his life.
It was not until he was in his late 60s that anyone from the government thought to get in contact with him They sent him a questionnaire, asking him what he had experienced after he had been in the first nuclear war zone. Was he suffering from illnesses? Did he have trouble breathing? How much exposure did he have to radioactive chemicals and residue? What were the effects on his health? Did he glow at night? (OK, they didn't ask him that but you get the idea.) Forty years later, the Department of Defense wanted to know. By that time he could have died from all sorts of complications. Luckily, he had not. But who's to say what happened to his comrades?
Thousands of military men and women come home to this country, maimed and scarred, both physically and mentally from the horrors of fighting a war. Although the armed services offers more help to active military now than during my father's time in the service, sadly it is not enough.
Military and Department of Veterans Affairs hospitals are overcrowded. Staffing, especially for mental health, is at an all time low. According to the Pentagon there are only 1,431 uniformed mental health professionals in uniform for all the services. The VA offers more therapists, but it's still not enough to provide care for all those who need it. That means many vets must seek private therapy, which can be very expensive. Disability checks often don't even cover their basic health-care needs.
Today, the military is seeking help from the private sector, asking therapists to volunteer an hour of their time to help vets suffering from such mental conditions as post-traumatic stress disorder and depression. And therapy is important. If these vets aren't treated, the VA says, this country could see higher rates of substance abuse, marital problems and suicide in our military. Even though veterans from my father's era are dying and the total number of vets is decreasing, the Department of Defense expects to spend close to $60 billion to compensate wounded soldiers over the next 25 years. Even the presidential candidates have made increasing funding to help the returning vets a campaign priority. Will it be enough? Only time will tell.
Every Memorial Day, my dad goes down to the World War II monument in Washington, D.C., to pay tribute to those friends who fought next to him and died for their country. He's not alone. Around the corner people, of all ages bow their heads and wipe away tears as they read the names on the Vietnam Memorial. And on the opposite side of the grassy Mall, others gaze at the stone soldiers that grace the Korean Memorial. It is important to remember. Yet, as we honor the men and women who died for this country today, let us also think of those who lived and came back home. Shouldn't they be given the same honor and respect we give to those who are no longer with us?
What do you think? Should this country be doing more for the American Vet when it comes to taking care of their health?
We'd like to hear from you.
Editor's Note: Medical news is a popular but sensitive subject rooted in science. We receive many comments on this blog each day; not all are posted. Our hope is that much will be learned from the sharing of useful information and personal experiences based on the medical and health topics of the blog. We encourage you to focus your comments on those medical and health topics and we appreciate your input. Thank you for your participation.