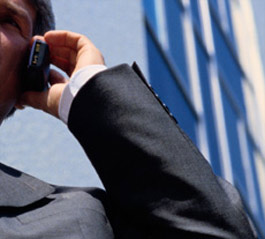 By Dr. Sanjay Gupta
CNN Chief Medical Correspondent
I am one of those people who is on his cell phone all the time. Between the hospital and my job as a reporter, I get a lot of calls, especially when I am on the road. So, like many people, I pay attention when I read new studies about cell phones and possible health effects. The good news is that most of the studies out there have shown no reason to worry. In fact one study out of Denmark of 52,000 cell phone users who'd used cells for 10 plus years found the incidence of tumors was even less than the general population. The cell phone industry is quick to point out that "the overwhelming majority of studies show wireless phones do not pose a health risk."
So, what to make of the fact that Dr. Vini Khurana out of Australia and Dr. Keith Black out of Los Angeles, who are both neurosurgeons, have voiced concerns about cell phones and brain cancer? And, just today, there is a new study of cell phones and pregnant women. That study found women who used cell phone two to three times a day while pregnant had children that were 54 percent more likely to develop ADHD and other behavioral problems. And, if those children used cell phones before age 7, they were 18 percent more likely to develop ADHD. (Watch Dr. Gupta's report here)
Now, as we dug into this story, we found even the study authors acknowledge that there is no causal link. That means there is no cause-and-effect relationship. It could be that young children who are on their cell phones a lot are also more prone to developing ADHD. Or, on the other hand it could mean that cell phones cause problems we haven't even imagined. We don't know. What we do know: Most cell phones emit between 850 and 1900 MHz of non-ionizing radiofrequency (RF) energy. It is different from the ionizing radiation from a medical X-ray. It can also make your speakers hum when you walk by them.
So, what do you think? Black, who is also the chair of neurosurgery at Cedars Sinai Hospital, believes that the science simply hasn't caught up and that we would all be well served by taking precautions. He always uses an earpiece. What about you? Are you concerned about cell phones and health effects or is this not a big deal?
Editor's Note: Medical news is a popular but sensitive subject rooted in science. We receive many comments on this blog each day; not all are posted. Our hope is that much will be learned from the sharing of useful information and personal experiences based on the medical and health topics of the blog. We encourage you to focus your comments on those medical and health topics and we appreciate your input. Thank you for your participation.