By A. Chris Gajilan
CNN Senior Producer
Since last Monday, the Gupta team has been pushing hard to get into Myanmar. All the bags are packed and ready to go. Flashlights and headlamps – check. Water purification tablets – check. Malarone (an anti-malaria drug) and other meds – check. Camera batteries charged and ready to go – check. We're on the balls of our feet, ready to spring forward, but we wait because the Myanmar government won't give us visas. As you probably know, we're not the only ones waiting.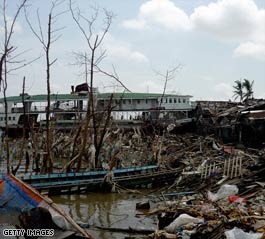 I've talked to dozens of people from organizations including UNICEF, World Vision, USAID, Doctors without Borders and the International Crisis Group. For all, this humanitarian crisis has been unique. So far, about half a million people have been reached with some sort of aid – whether that's a bag of rice or a sanitation kit. But more than 2 million people have been affected and are in need of assistance according to Joe Lowry of the International Federation of Red Cross and Red Crescent Societies. Part of the problem is that the country has allowed only a trickle of humanitarian aid experts into the country. In some cases, they have allowed deliveries of goods but not the personnel normally sent to help distribute them effectively. One expert put it this way: "It's like dropping a off a bunch of instruments and somehow expecting a symphony to be played without any training or organization."
Myanmar has been ruled by a military junta since the 1980s. Its leadership is not fully recognized by many nations including the United States government. In case you've been wondering, that's why some people, including the U.S. government, refer to the country as Burma – its official name before the military junta rule.
Now, it's been more than a week since Cyclone Nargis hit Myanmar (by the way, these powerful tropical storms are called hurricanes in the Northern Hemisphere and cyclones in the Southern Hemisphere). The few humanitarian experts on the ground say the situation is worsening by the day. We've heard preliminary reports of outbreaks of diarrheal disease, cholera and malaria. Without a doubt, it's a humanitarian crisis that's hard to imagine in scope and scale, especially given the limited reporting from the country. So far, the United Nations estimates the death toll from Cyclone Nargis ranges from 63,000 to 100,000 with tens of thousands of people still missing. That's staggering – especially compared with two other tragic disasters we've covered: the 2004 tsunami left 181,000 dead and Hurricane Katrina killed 1,836 in 2005. Even as a journalist who has seen these catastrophes – it's hard to wrap my head around such large numbers of people killed, affected or injured.
Crisis experts say the timeline for outbreaks is generally 10 days after a disaster. Tomorrow will be the tenth day. The Red Cross points out there is standing water everywhere and no sanitation to speak of – it's a combination that will lead to inevitable disease.
We're still working hard to get into the country. Have you been following news coverage on Myanmar's humanitarian crisis? If and when we do report from Myanmar, what are you interested in seeing?
Editor's Note: Medical news is a popular but sensitive subject rooted in science. We receive many comments on this blog each day; not all are posted. Our hope is that much will be learned from the sharing of useful information and personal experiences based on the medical and health topics of the blog. We encourage you to focus your comments on those medical and health topics and we appreciate your input. Thank you for your participation.