By Matt Sloane
CNN Medical Producer
I had one of the most rewarding experiences of my CNN career Wednesday, and it involved 40 children, about as many parents and some homemade jambalaya at a senior center in Louisiana.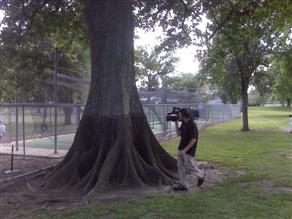 "It starts with a playground" is the slogan for KaBOOM, a national non-profit organization that builds playgrounds. KaBOOM is our newest partner in the fight against childhood obesity. For those 40 kids, and even the parents in the room, it really does all start with a playground.
These children have been through more than most their age. Many of them are old enough to remember Hurricane Katrina just three years ago; and if they can't remember, the 5-foot-high water line on the trees at their local park still serves as an indicator of the storm's wrath. Wally Pontiff Jr. Park, known as Metairie Park before the storm, sat under 5 feet of water for close to two weeks. It sits just a few miles from Lake Ponchartrain, and a few hundred yards from the Mississippi River, putting it squarely in the flood zone.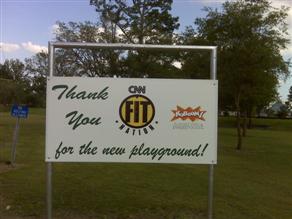 That's where CNN Fit Nation comes in. For us, it started with a phone call to KaBOOM, and six months later I found myself sitting at this senior center, watching the kids draw their dream playground with crayons. From those drawings, the parents and I sat with KaBOOM staffers and picked the playground equipment that best fit the kids' drawings. Two months from now on June 28, we'll all meet in Metairie to build it, in a shade under 6 hours.
As the parents and adults thanked me for CNN's contribution to their community, I asked all of them for something in return – to use this new playground and to get their children moving and to teach them how to stay healthy well into adulthood.
Whether you're talking about keeping these kids healthy, revitalizing damage left in the wake of a tragic storm or the beginning of a great partnership with a non-profit organization – it really can all start with a playground.
KaBOOM's mission is to build a playspace within walking distance of every child in America. Do you want to help? Get information at www.KaBOOM.org, or check out www.CNN.com/Fitnation.
Editor's note: Medical news is a popular but sensitive subject rooted in science. We receive many comments on this blog each day; not all are posted. Our hope is that much will be learned from the sharing of useful information and personal experiences based on the medical and health topics of the blog. We encourage you to focus your comments on those medical and health topics and we appreciate your input. Thank you for your participation.