By Dr. Sanjay Gupta
Chief Medical Correspondent
When I first heard that former football great Herschel Walker had multiple personality disorder, I was pretty stunned. Even though, I am a doctor, I had to admit that I knew very little about this particular psychiatric disorder. For starters, it is called DID, or dissociative identity disorder, instead of multiple personality disorder. Most people think of Sally Field's character Sybil, but another thing I learned is neither Sybil nor Walker actually has multiple personalities, but rather the lack of one cohesive personality. In Walker's case, he has 12 – yes 12 – alter personalities, which are all better described as fragments of one. (Here is an article I thought was very informative: http://www.dana.org/news/cerebrum/detail.aspx?id=11122)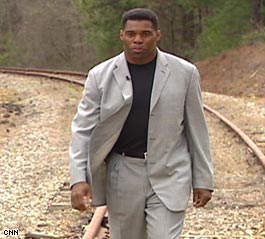 Sitting down with Walker, I met an extremely charismatic and likeable man who certainly didn't overtly flip from one alter to the next. It became clear, though, throughout our conversation that these alters were just under the surface. From stories of playing Russian roulette while still an extremely successful football star to rapidly switching from one alter to the next with absolutely no recollection, it was mind boggling, confusing, and a little bizarre. Again, unlike uncontrolled rage or depression, Walker really could not remember from one alter to the next. He even had names for his alters. The one that showed up on the football field was the General, and he was a competitive killer.
Because of the lack of memory of these various alters, we found it important to speak with people who witnessed this firsthand.  So, we flew to Dallas and met with his former wife, Cindy.  She described many incidents, including a chilling one of waking up with a straight razor to her neck and Herschel threatening to slit her throat - and then having Herschel quickly flipping and asking her if she was OK.  She saw that flipping back and forth and it scared her – eventually leading to their divorce.
Medically, I was fascinated to learn that DID is much more common than people realize – about 1 percent of the population has the disorder. It is often associated with psychological and physical abuse as a child; in fact it is a childhood disorder that is often diagnosed as an adult. The child starts to separate his or her personality into fragments in order to deal with different aspects of life.  By adulthood, these fragments become full-fledged alters. Herschel himself admitted he was bullied a lot as a child, because he was overweight and stuttered.
In Walker's case, sometimes the alter personalities worked for him as the General did on the football field, but most of the times they were destructive. He is getting help nowadays, but there is no specific medication that can be prescribed. Instead, he goes through counseling to sort of teach his alters to know one another and become one cohesive personality. While he seemed to have things in control as we talked for a long time and even threw the football around, the alters are still very much there.
As I said, I found the story of Herschel Walker to be absolutely fascinating.  And I wondered how many more stories like his are out there.  Have you ever seen or heard anything like this?
Programming note: Watch Dr. Sanjay Gupta's interview with Herschel Walker and report on dissociative identity disorder on Anderson Cooper 360 tonight at 10 ET.
Editor's Note: Medical news is a popular but sensitive subject rooted in science. We receive many comments on this blog each day; not all are posted. Our hope is that much will be learned from the sharing of useful information and personal experiences based on the medical and health topics of the blog. We encourage you to focus your comments on those medical and health topics and we appreciate your input. Thank you for your participation.